July 30, 2011 - 8:32pm
History's latest chapter about to close on the 'Byron Dig'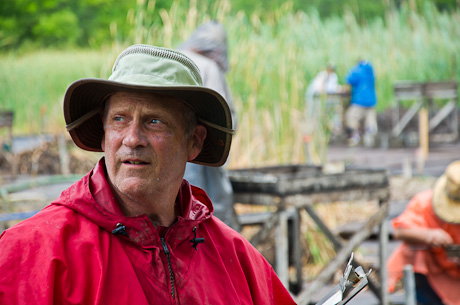 More than 13,000 years ago, a bit of history sunk in the mud of what is now a small swamp off a back road in Byron, and unearthing that archeological record has been the life's work of Richard Laub.
A chapter of local history closes some time in the coming week when Laub wraps up his final dig at a place he calls the Hiscock Site and most local residents know as the "Byron Dig."
Laub started archeological work at the site in 1982 and that work has continued unabated for 29 years. 
Several factors, Laub said, have led to the tough decision to shut down the dig. While being non-specific about all the factors, he acknowledged that financing the effort has become increasingly difficult in recent years.
"It's been such a wonderful project, such a wonderful experience, especially working with these people (the volunteers at the site), that I used to wonder, 'How do I let go?' to say, 'OK, it's time to quit,'" Laub said. "Fortunately, with these factors converging, other forces are telling me it's time to quit, and I'm looking at the whole situation and going, 'Yeah, it's time to let go.' I guess you could say providence gave me a little kick in the pants."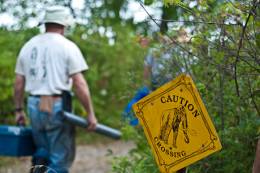 The dig is probably among the top three archeological sites for uncovering mastodon remains in the world, and it's also given up a treasure trove of human habitation finds.
More than 70 scientific papers have been published related to the dig, Laub said.
The significance and the history of the research at the site will probably mean that at some point in the future -- who knows how far into the future -- another paleontologist will want to take over excavation of the dig, Laub said.
Complete excavation will take decades.
"This is a site that is known internationally," Laub said. "It's been extremely productive and very rich in terms of what it taught us, so I would think there would be other people who are interested in it."
The name, the Hiscock Site, comes from Charles Hiscock, the land's former owner, who in 1959, decided to dig a pond and instead dug up a mastodon tusk.
Hiscock notified the Buffalo Museum of Science and that was as far as the discovery went. Hiscock kept his mastodon parts and nobody at the museum seemed much interested in the site until the early 1980s.
In 1982, an anthropologist at the museum, Richard Michael Gramly, Ph.D, heard from another staff member about the site and thought he should do a sample dig to see if he could find evidence of human and mastodone co-existence.
He did a sample dig and was dissatisfied with the results (evidence of human habitation would eventually be found there).
"So I figured things had gone that far," Laub recalled, "that with that opening crack in the doorway, I had an obligation as a paleontologist to take a look."
Typically, Laub said, property owners are reluctant to let archeologists keep what they find in excavations, but unless the artifacts are properly secured, there isn't much point in digging them up.
"Hiscock was extremely cordial," Laub said. "I was just absolutely bowled over."
Not only would Laub be allowed to keep what he found, but Hiscock turned over to the museum the tusks and bones he had already unearthed.
"We could not have started our research if he had not allowed our institution to keep those things," Laub said. "...that was a very generous thing and it made all the difference in the world.
In 1989, Hiscock donated the land to the museum.
"We became close friends," Laub said. "We spent a lot of evenings together after a day's digging and I miss him very much."
The significance of the dig can't be understated, according to Laub.
"I don't know too many collections in museums (like this)," he said. "There are collections in museums of rodents from a particular cave or pottery shards from a particular site, but something that takes into account the human and the non-human and the environmental aspects, I don't think there are a lot of places like this."
As clouded as the future is for the dig, so it is for Richard Laub.
Beyond the next few months, his future is "completely opaque."
But he said he does know there is a future for him, just as there is for the dig.
"There's a saying, 'If all you are is what you do, you're not very much,'" Laub said. "So if my being is defined exclusively by this, then basically I'm dead after it ends. And I know that life goes on, so the important thing is to appreciate what has been done here and build upon it."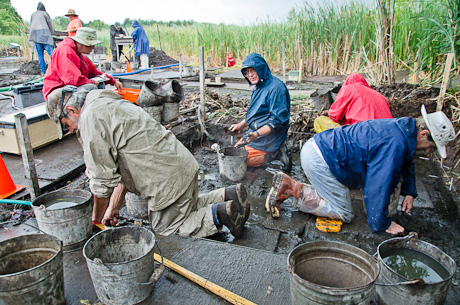 Below, slide show of photos taken at the site on Friday. Be sure to click the button in the lower right to view in full-screen mode.
July 31, 2011 - 8:30am
#1
Thanks to all for your dedication and hardwork! Inspirational!