August 7, 2012 - 10:31am
Hochul marks Farmers Market Week with visit to market at Batavia Downs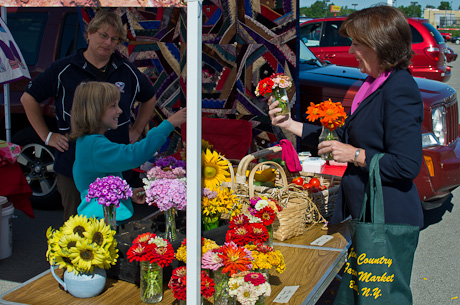 \
It's national Famers Market Week and to help commerate the event, Rep. Kathy Hochul stopped by the Genesee County Farmers Market in the Batavia Downs parking lot this morning.
Above, Hochul buys flowers from Kathryn Schneider, as mother Dana looks on. Dana Schneider is owner of Stonehouse Acres. Hochul told Kathryn that she worked in her mother's flower shop as a child as did her daughter. "See, you can learn a lot selling flowers," Hochul told Kathryn.
Below, Hochul is greeted by another constitutent and a couple of pictures of flowers and corn for sale today at the market.