July 12, 2011 - 6:37pm
Hochul resisting pressure from Obama Administration to back new free trade deals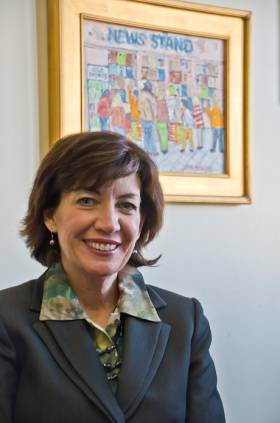 The Obama Administration is stepping up pressure on Congress to pass new free trade agreements, but Rep. Kathy Hochul (NY-26), elected to represent WNY in a special election a month ago, says she will stand by her campaign promise to vote against the proposed treaties.
In response to a question from The Batavian, her congressional spokesman, Fabien Levy, sent the follow message:
She still remains very opposed to all of the free trade agreements. I remember that during the campaign she went beyond your question on one free trade deal and answered it on all the free trade deals.  
Here's the question and answer Levy mentions:
Q: The next representative of the NY-26 is likely going to be asked on vote on the South Korea – United States Free Trade Agreement. If elected, will you vote "Yes" or "No." After offering a straight up or down answer, please explain your yes or no vote.
A: No, I do not support the U.S./South Korea Free Trade Agreement. I also do not support the U.S./Panama or the U.S./Colombia Free Trade Agreements.
Millions of hard-working Americans have lost their jobs due to unfair trade deals like NAFTA and CAFTA and entering into additional free trade agreements will only further harm our economy. Instead of expanding trade policies that have resulted in thousands of good paying Western New York jobs being sent overseas, we need to focus on creating an environment that gives smalls businesses the opportunity to innovate and grow, right here in the 26th District.
Hochul's opponent, Jane Corwin, took a far less solid stand on trade issues, but did say during a campaign appearance in Batavia that she supported "fair trade" and wasn't a "protectionist."
Trade arguably played an important role in Hochul winning the election. Polls seem to indicate that voters switched support for the outspoken anti-free trade candidate Jack Davis to Hochul, rather than Corwin, in the final week of the election.
Related to Hochul's position on free trade last week, the newly minted representative supported measures to crack down on currency manipulation by China.
(Photo: file photo)
A full press release from Hochul's office on that issue after the jump.
CONGRESSWOMAN HOCHUL URGES Action on TRADE
Fights to level the playing field for U.S. manufacturers
Washington, DC – This week, Congresswoman Kathy Hochul took action to force a vote on bipartisan job creating legislation that would crack down on China's unfair currency manipulation and force China to play by the rules on trade.  Hochul joined other House Members in signing a petition to bring up The Currency Reform for Fair Trade Act, a bipartisan measure from Reps. Sander Levin (D-MI), Tim Murphy (R-PA), and Tim Ryan (D-OH).
"The time for Washington to act is now," Congresswoman Hochul said. "This move will force the House Leadership to allow a vote on the Currency Reform for Fair Trade Act. This is about supporting American companies and American manufacturers and helping them create between half a million and two million jobs. Not only would it enhance our economic and national security, but it would do so at no cost to American taxpayers." 
The Currency Reform for Fair Trade Act will help American businesses compete on a more level playing field by treating fundamentally undervalued currencies as a prohibited subsidy, allowing the U.S. to take action to counter this unfair trade practice. This legislation is an essential element in addressing currency manipulation by the Chinese government that has jeopardized efforts to create and preserve U.S. manufacturing jobs. 
"For far too long China has gotten away with manipulating its currency to decrease the price of its goods on the world market," Hochul added.  "I believe American products can and will compete, and we'll see a resurgence in exports here in America when we make our trading partners play on fair ground."
The Chinese government continues to intervene in the markets to suppress the value of its currency – making American exports more expensive and Chinese products cheaper.  
The legislation overwhelmingly passed the House of Representatives last year with a vote of 348-79.
July 12, 2011 - 7:09pm
#1
Rep. Hochul is making good her pledge to oppose the new round of "free" trade agreements when she ran in the special election. Her consistancy should be no surprise looking back at her outstanding performance as the Erie County Clerk, she always clearly said what meant and meant what she said. As a resident of Erie County I'm grateful for for the good service we recieved from Hochul as the Erie County Clerk and expect she will exceed all expectations in her present job as our Representitive in the 26th. District.