December 26, 2011 - 9:05am
Horse rescue owner diagnosed with cancer, 18 horses need new homes immediately
One of the owners or a horse rescue in Pavilion has been diagnosed with terminal cancer and the rescue must shut down immediately.
The owners need to quickly find new homes for 18 horses and are turning to the public for help.
Chris Dodge said she has contacted other rescues, let other stables and vets know about the situation, but "there's no room at the inn."
"We have to turn to the public," Dodge said. "If somebody wanted a horse in the spring, don't wait until the spring, take it now."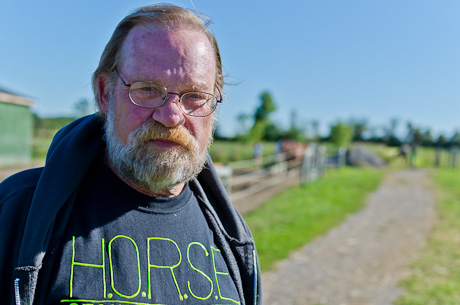 Chris' husband Mike has stage 4 cancer, Chris said. He's undergoing intensive chemotherpy and radiation treatment, but has been given seven- to nine-months to live.
The cancer has wrapped around his heart, trachea and is in his liver. It was first discovered in his pelvis after he fell recently while feeding the cats and broke his pelvis.
The rescue is doing well enough financially right now, Chris said, but she simply has no time now to properly care for the horses. She and Mike must make frequent trips to the doctors and he needs care when they are home.
"We have some wonderful volunteers, but they're inexperienced," Chris said. "The horses are getting fed and the stables are getting mucked, but that's about it."
The rescue will still require the same standards for placement of horses that they always have, but the contract is being modified to take out the return policy. There will be no returns on any horses adopted.
To make an appointment at the rescue to view the animals and consider an adoption, call (585) 584-8210.
Previously: Horse rescue in Pavilion carries on in difficult times
Photo: Mike Dodge from September of this year.
December 26, 2011 - 11:59am
#1
Hey Howard.... just a quick correction I pretty sure you meant trachea instead of trakia, especially if you meant the organ located in the throat near the larynx.... Danged if they dont make the spellings for those parts of the body pretty damned tricky.