January 28, 2014 - 10:35am
Jankowski assured at council meeting rules allow him to talk with city staff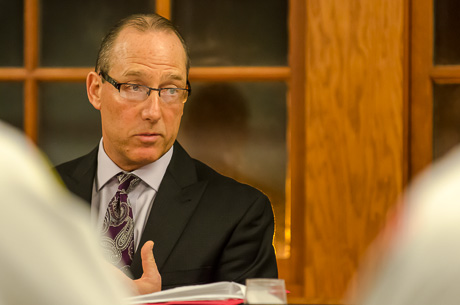 A request by newly elected City Councilman Eugene Jankowski to amend council rules clarifying how and when council members can contact city staff received little support from the rest of the council Monday night.
And when City Manager Jason Molino said the current rules already allow a council member to do what Jankowski was asking, Jankowski said he was satisfied with Molino putting that on record and let the matter drop.
"I guess I'm happy with it," Jankowski said. "If the rules already say that, then I guess there was some misunderstanding because I was told that when I e-mailed department heads and requested a meeting, instead of being provided a date and a time, I was told I must go through your office."
Jankowski's position is that just because he's been elected to council, he shouldn't lose the right of any citizen of the city to go to a member of city staff, particularly department heads, and ask questions.
What Jankowski said he doesn't want to see happen is give council members the leeway to give orders to city staff or intefer with the conduct of their jobs or get involved in union issues, but he does believe council members have the right and obligation to gather information.
Molino said the rules are in place to ensure proper supervision of employees.
"There's one person responsible for their work, and that's me," Molino said. "That's what you hold me accountable to."
Jankowski is a former lieutenant in Batavia PD, served a time as interim chief and was forced to retire when Molino and Chief Shawn Heubusch decided to restructure the department last year and eliminate all lieutenant positions.
The former cop and city manager have a long history of being at odds with each other and Jankowski wasn't happy about being forced out of his job.
Jankowski received the most votes in November's council member at large election.
He said he did go through Molino to schedule a meeting with Heubusch to discuss, among other things, the proposed "neighborhood sweep" proposal. Jankowski, who initially proposed the idea, said he came away from the meeting believing it's a good idea, though perhaps inappropriately named.
"There may be complaints we should look into, maybe complaints of a sensitive nature, maybe it's a complaint about him," Jankowski said. "If we ran right to him and told him or had to go through him it might cause some sort of problems. It might not be appropriate."
Only Councilwoman Rose Mary Christian spoke up in favor of Jankowski's proposal, but she also said she's never had an issue going to any department head and asking questions. She just does it and nobody has ever told her to stop, she said.
"If you have a question you should be able to talk to any department head," Christian said. "We represent the people of Batavia. We don't represent Jason. Sorry Jason."
Molino said there's never been an issue with council members going to department heads and asking questions.
"There's nothing in the rules that prohibits you from contacting department heads and asking questions," Molino said. "When you ask questions, sure I find out about it, but I usually follow up with, 'did you get your answer, can I do anything more?' "
Christian said that's exactly what happens.