October 24, 2013 - 9:30am
Jankowski brings home a first-place award in three-gun shooting competition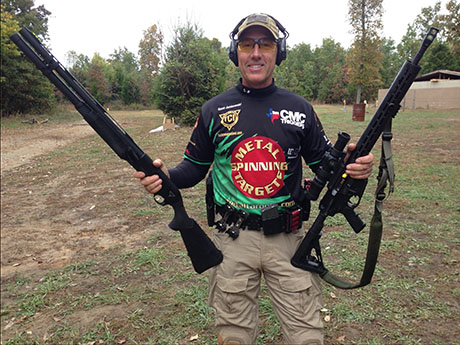 Former Batavia PD officer Eugene Jankowski had another successful showing at a gun competition, finishing in the top 25 percent out of 202 competitors and winning 1st Place in the senior tactical optics division.
The competition, the 2013 Blue Ridge Mountain Three-Gun Championship, was held last week  at the Rockcastle Shooting Center in Park City, Ky.
Competitors shot nine stages of fire in natural terrain over three days.  
All stages required the use of a modern sporting rifle, semi-auto shotgun and semi-auto handgun.  The targets were required to be engaged from awkward shooting locations and positions. Targets ranged from 3 to 425 yards for the rifle, 3-70 yards for the pistol and 10-75 yards for the shotgun.
Jankowski is sponsored by Metal Spinning Targets in Le Roy, CMC Triggers in Fort Worth, Texas, Wolf Gunsprings and Offhaus Farms in Batavia.
October 24, 2013 - 8:21pm
#9
Very nice shooting in deed! I'll bet that that Prince Andrew, President of the great State of High TAXES would love to add the mini-gun that we Marines used in Vietnam to his collection of weapons confiscated from the taxpaying legal residents of this state, but, Alas, he'd could not find his way out of a big red barn even if the word DOOR was painted on that door in big bright yellow letters & he had precise, step by step directions to follow! So he'll never find mine..:)