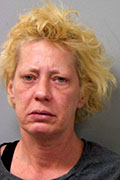 Tonia Doell
Tonia M. Doell, 44, of 14 Vine St., Batavia, is charged with three counts of menacing, 2nd, one count of criminal possession of a weapon, and one count of attempted assault, 2nd. Doell is accused of requesting medical assistance at 2:21 p.m. and when Mercy EMS personnel arrived at her residence and attempted to enter, Doell allegedly threatened them with a kitchen knife. Doell was arraigned and jailed without bail.
Jason D. Lang, 27, and Ashley R. Keene, 26, both of 244 Liberty St., Batavia, are charged with grand larceny, 4th. Lang and Keene are accused of stealing 10 pairs of eyeglass frames valued at more than $1,600 from the Lencrafters location in Hamburg. Hamburg detectives received several calls identifying Lang and Keene as the suspects after police posted pictures of the shoplifting suspects on Facebook and Buffalo media outlets picked up the story. Upon further investigation, Lang and Keene were asked to appear at Hamburg PD and did so voluntarily. Hamburg detectives report that Lang and Keene confessed to the theft. They were issued appearance tickets.
Pamela Kristene Goerss, 43, of Oak Hill Road, Silver Springs, is charged with DWI, speed not reasonable and prudent, unlicensed operator, leaving the scene of an accident and parked in roadway. Goerss was reportedly operating a 2011 Volkswagan Jetta southbound on Perry Road at 3:16 a.m. Sunday when she was involved in an accident. The other vehicle left the scene. Goerss also allegedly tried to drive away from the scene, but her vehicle became disabled. The Sheriff's Office is asking for the public's assistance in identifying the other vehicle and driver. Anybody with information can contact Deputy Frank Bordonaro at (585) 343-5000. Goerss was jailed on $500 bail.
Brian Lee Smith, 52, of Colonial Boulevard, Batavia, is charged with criminal contempt, 2nd, and aggravated family offense, a felony. Smith is accused of yelling a vulgar word at the victim, who has an active order of protection in place, Smith allegedly yelled at the victim while she was in her own driveway. Smith was jailed on $20,000 cash bail or $40,000 bond.
Bryan R. Bartholomew, 27, of Hutchins Street, Batavia, is charged with criminal contempt, 2nd. Bartholomew allegedly violated an order of protection by being at the residence of the protected party. Bartholomew was released under supervision of Genesee Justice.
Matthew D. Derrick, 29, of Bank Street, Batavia, is charged with harassment, 2nd. Derrick is accused of being involved in a domestic incident March 6.
Dariel A. Giffith, 21, of Jackson Street, Batavia, is charged with harassment, 2nd. Griffith is accused of striking another person in the hand during a dispute on South Swan Street at 4:56 p.m. March 6.
Jon David Vega, 48, of 78th Street, Howard Beach, was arrested on two bench warrants for alleged failure to appear. Vega was arrested upon his release from the Monroe County Jail on unrelated charges. He was arraigned in City Court and jailed on $5,000 cash bail or $10,000 bond.
Christina M. Colantonio, 27, of Snipery Road, Corfu, is accused of failure to appear after appearance ticket served. Colantonio was located walking westbound on West Main Street near Union Street by Officer James DeFreze and she was arrested on an active warrant. Colantonio posted $500 bail and was released.
Heather Daffney Stone, 19, of Elwood Drive, Rochester, was arrested on a bench warrant related to a third-degree burglary charge. Stone was released from Monroe County Jail on an unrelated matter and taken into custody on the burglary charge. Stone was held without bail.
Johnny Uylesse Troche, 28, of West Main Street Road, Batavia, is charged with menacing, 2nd. Troche allegedly threatened another person with a knife at 9:26 p.m. Saturday.
Francisco Rodriguez, 37, of Portland Avenue, Rochester, is charged with possession of untaxed cigarettes. Rodriguez was stopped at 8:43 p.m. Saturday on Lewiston Road, Batavia, for alleged failure to dim high beams by Deputy Joseph Corona. Rodriguez was allegedly found in possession of more untaxed cigarettes than legally allowed.
Christina Sandra Baudanza, 37, no address given, was arrested on a Family Court warrant. Baudanza was arrested upon her release from the Wyoming County Hospital. She was arraigned in Family Court and released to a social service worker who took her to temporary housing.
Katie Lee Winnie, 20, of Exchange Street, Attica, was arrested on bench warrants related to charges of petit larceny and possession of marijuana. Winnie allegedly failed to appear for a court date in the Town of Batavia. She turned herself in and was jailed on $500 bail.
Eric X. Williams, 22, of Batavia, is charged with harassment, 2nd. Williams was arrested by State Police for an alleged incident reported at 10:46 p.m. on Feb. 24. No further details released.
Joshua J. Clark, 37, of Le Roy, is charged with DWI and driving with a BAC of .08 or greater. Clark was stopped at 1:50 a.m. Friday at the junction of routes 5 and 63 by State Police.