May 21, 2014 - 9:12pm
Le Roy resident accused of menacing police officers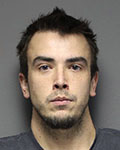 Timothy Niccloy
A 28-year-old Le Roy man has been accused of brandishing a knife at police officers in Le Roy after the officers tried to restrain him believing he was a threat to himself.
Timothy Niccloy is charged with two counts of menacing a police officer, a Class D felony, and counts of criminal possession of a weapon, obstructing governmental administration and resisting arrest.
Officers responded to his residence May 16 on a request to check his welfare. During the check, the officers became concerned that he was a threat to himself. 
Niccloy was taken into custody after a struggle and a taser was deployed to help subdue him.
Following arraignment, Niccloy was jailed on $10,000 bail.
Deputies and troopers assisted at the scene.
What makes you think he needs help? The police "believe" people are a threat to themselves if they won't open the door and talk face to face. Maybe he didn't want to talk and they just wouldn't leave.