November 8, 2013 - 3:40am
Major fire causes severe damage to one of Genesee County's largest ag businesses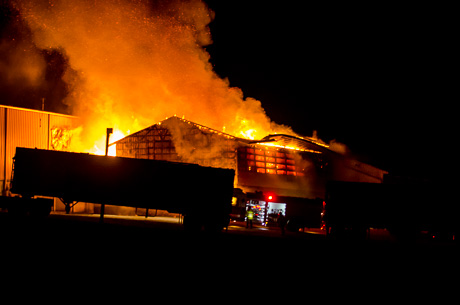 A lack of public water along Creek Road, Town of Bethany, hampered firefighting efforts at Baskin Livestock on Thursday night after a barn fire was reported just before 11 p.m.
Bethany, Town of Batavia, Alexander and Pavilion fire departments all responded quickly after their fire tones sounded, but as the Baskin barn burned, most of the firefighters on scene could only watch while they waited for tankers to arrive and porta ponds to be erected.
Baskin is one of the largest ag-related employers in Genesee County, with more than 100 workers. The company specializes in converting waste baked goods into animal feed.
Owner Bill Baskin is popular in the local business community, beloved by his employees and was named 2011 Agriculture Business of the Year.
The fire appears to have started in a barn-like structure where trucks pull in to be loaded with feed.
The structure was completely destroyed.
While the fire spread into the adjoining production facility, it's unclear how much damage was done.
At one point during the fire fight, Baskin was pleading with fire chiefs to send in a hand-line crew through a doorway on the north side of the processing building.
"I know my building," he said. "You can save it if you send a crew in here."
It took some minutes, but crews were sent into the building through that door. The fire was pretty much stopped at that point.
Paul Kennedy, a former Dansville firefighter, was among the first people to see and report the fire. He and a friend had been out hunting when they saw the smoke.
"The heater between the two big buildings was on fire," Kennedy said. "It wasn't much at first, but it turned into something quick with the wind."
Minutes after Kennedy arrived on scene Baskin arrived, and Kennedy helped him pull trucks away from the building and close the doors on the back of the building.
Bethany Assistant Chief John Szymkowiak said a lack of water definitely played a role in making the fire harder to fight and contain.
"This fire had a big head start on us," Szymkowiak said.
This is the second major fire at Baskin Livestock in just about five years. In 2008, Baskin suffered a serious fire, but did rebuild.
Fire companies from five counties -- Genesee, Livingston, Orleans, Wyoming and Monroe -- responded to the fire or provided fill-in support at local fire halls. All but three departments in Genesee County -- Alabama, Pemborke and Indian Falls -- responded to the fire scene.
Ladder trucks for the town and City of Batavia along with Le Roy helped fight the fire.
The cause of the fire has yet to be determined.
UPDATE Friday 9:07 a.m.: Bethany Fire is dispatched to Baskin Livestock for a cyclone fire.
UPDATE 10:29 a.m.: The fire was put out about 20 minutes ago but they are still working on dousing some hot spots.
UPDATE 11:33 a.m.: Mutual aid is called from Town of Batavia Fire Department to assist Bethany in fighting a sawdust fire in the rafters of a structure.
UPDATE 11:40 a.m.: A tanker from Attica is called to respond.
UPDATE 11:52 a.m.: A tanker from Stafford is requested.
UPDATE 12 p.m.: Aid from Alexander is requested.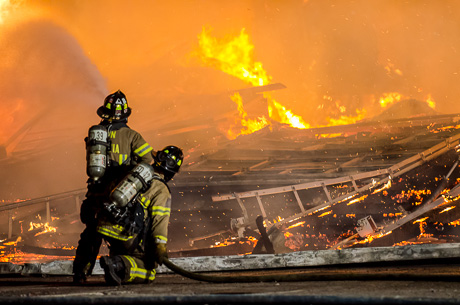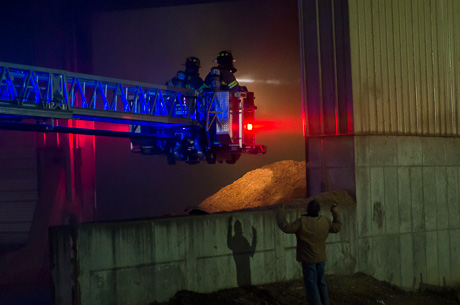 Bill Baskin pleading with firefighters to use a hand-line crew on the north side of the building.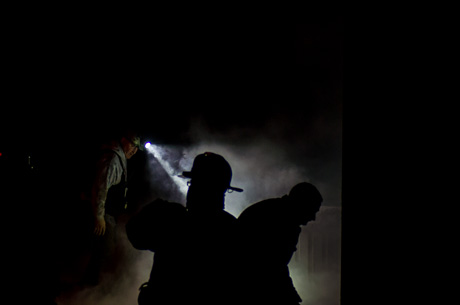 Baskin, far right, and an employee showing a chief the situation inside a doorway on the northside of the building.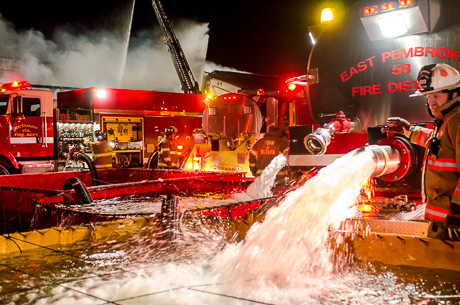 Perhaps one of the largest porta pond operations ever assembled for a fire in Genesee County.