March 4, 2013 - 4:17pm
Man accused of tangling with police officer reportedly changes mind on plea deal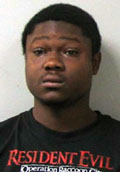 Kevin L. White, accused of burglary and assaulting a police officer, was pretty indecisive today about whether to accept a plea offer on the multiple charges against him.
When White first appeared in Genesee County Court this morning, his attorney, Fred Rarick, was under the impression he was going to accept the plea offer, but White turned it down.
Rarick and White then met back at the jail where, Rarick said, he explained again all of White's options and the possible consequences of getting convicted by a jury. He also explained an "Alford plea" where White could enter a guilty plea without admitting to the factual allegations, just to the likelihood that he would be convicted by jury.
The case was put back on afternoon calendar and, again, Rarick expected his client to accept the plea offer.
But as Rarick stood before Noonan, he told the judge his client had again changed his mind.
District Attorney Lawrence Friedman said that he will proceed now with a presentation to a grand jury for a possible indictment.
Of course, until a trial date is set, White will still have the option of accepting whatever offer is on the table.
White, 21, of no permanent address, is charged with second-degree burglary for an alleged break-in Aug. 21 in the City of Batavia. He was arrested Jan. 4.
He is also charged with criminal possession of a controlled substance, 7th, obstruction of governmental administration, unlawful possession of marijuana and assault, 2nd (causing physical injury to a police officer), and resisting arrest.
White was reportedly at a residence on State Street at 5:51 a.m. on Oct. 14 when Batavia police officers responded to a report of a domestic incident.
While paramedics treated an alleged female victim downstairs, police went upstairs where White and another person had allegedly locked themselves in a bedroom.
Officers kicked in the door and White allegedly tried to flee down the stairs and charge past Sgt. Dan Coffey. He and Coffey fell against the wall, down one stair and spilled into the kitchen, breaking a table and chair. Coffey allegedly suffered a leg injury.
White allegedly continued to struggle with Coffey until another police officer subdued White with a Taser.
During a search of White, he was allegedly found to possess cocaine and marijuana.
White has been in jail since on $20,000 bail or $40,000 bond.
UPDATE: Batavia PD released more information this morning about White's arrest on a burglary charge. White was accused of stealing returnable bottles and cans from a residence on Washington Avenue in August. He was also charged with petit larceny.