July 7, 2012 - 12:39pm
Man who climbed on rooftops held without bail on criminal charges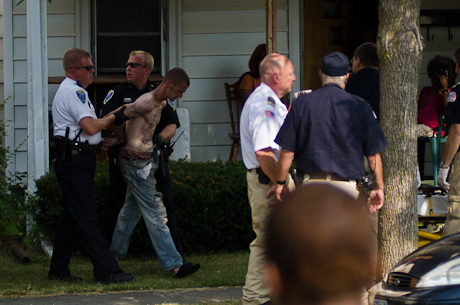 UPDATED 1:14 p.m. with additional information on charges.
A 32-year-old man who clambered on to rooftops in two separate incidents Friday is in jail, being held without bail, after being charged with criminal trespass and criminal mischief.
Bradley J. Broadbent, no permanent address, climbed onto a roof and reportedly jumped from roof to roof between homes on Hutchins Street late Friday afternoon.
Police, fire and medical personnel responded to the scene and Broadbent was talked into getting onto a ladder and climbing down.
He was transported by Mercy EMS to UMMC for evaluation.
At about 8 p.m., Broadbent reportedly fled UMMC's emergency room and a short time later, police were notified of a person entering a residence on Tracy Avenue.
Broadbent reportedly knows the woman who lives at the residence.
After a search of the residence, officers reportedly located Broadbent on the roof of a neighbor's garage.
Several other charges are pending against Broadbent, according to police.
On Friday, Lt. Jim Henning characterized Broadbent as a person of interest in a case of vandalism at a business building on Swan Street.
At the Hutchins Street incident, Broadbent was observed making repeated head and upper body movements, appearing very jittery. Police described his behavior as "irrational."
The criminal trespass charge stems from the Hutchins Street incident. At Hutchins Street, Broadbent also allegedly kicked in a door of a residence, leading to the criminal mischief charge.
According to Henning, Broadbent will also be charged at his arraignment July 9 with burglary for allegedly entering the Tracy Avenue residence.
Photo: From the Hutchins Street incident Friday.