August 16, 2011 - 8:11pm
Mancuso Bowling Center ready for new season after recoating all 24 lanes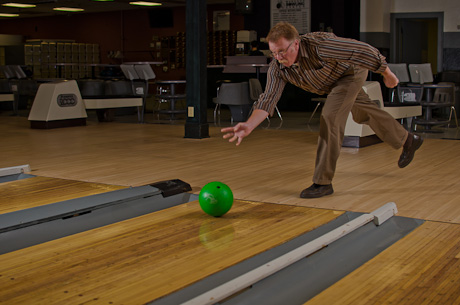 John Sisson, above, tries out the revitalized bowling lanes at Mancuso Bowling Center, behind T.F. Brown's, in Batavia.
All 24 lanes were screened (kind of like sanding) and recoated over the summer, according to manager Mike Sputore.
At one time, the Mancusos recoated the lanes only every few years, now they try to do it every year or two.
"We've noticed better scores with the more frequently we do it," Sputore said.
In an effort to spiff up the lanes even more, the walls have been repainted, the bowler's approach area resurfaced and many worn parts of the pin machinery replaced.
To help give bowlers a chance to try out the revitalized lanes, Mancuso's is offering $1 per-game specials from 4 to 9 p.m., Aug. 20 through Aug. 26.
Through August, Mancuso Bowling Center is open 3 to 9 p.m. and from noon to 8 p.m. on Saturdays and Sundays.
August 17, 2011 - 1:40pm
#1
To Whom it May Concern: I am an avid bowler with a per game pin average of 118.5. I love Mancuso's Lanes, and I have bowled there for over 3 decades. However, nothing gets under my wrist guard more than someone bowling without regulation shoes! The next time this Earl Anthony look-a-like decides to roll a 9 lb ball down these newly refurbished lanes, can someone please tell him to go the extra mile and spring for the shoe rental?
August 17, 2011 - 2:55pm
#2
Blame the clueless photographer. He missed an appointment with a bowler and John, who didn't come to T.F. Brown's yesterday expecting to bowl, was nice enough to fill in.
August 17, 2011 - 3:28pm
#3
Howard, no big deal. Love the website. John is a great guy and his bowling form is trophy worthy! Keep up the great work.
However, its all in the details. I expect, at a minimum, size 12 rentals next time.