March 10, 2014 - 6:10pm
Michael Napoleone Memorial Foundation donates $10K to Golisano Children's Hospital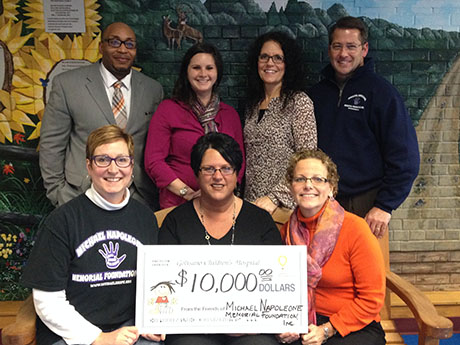 Press release:
The Michael Napoleone Memorial Foundation donated its first installment of $10,000 to the new Golisano Children's Hospital which is currently under construction in Rochester, NY, with opening date slotted for 2015.
This is the first installment as the foundation has pledged a total of $50,000 to the project. The monies will be earmarked for the Child Life Office in the new facility. Child Life provides the hospitalized children with therapeutic programs, play and other activities to help children and families cope with the challenges of illness or hospitalization.
This is another way the Michael Napoleone Memorial Foundation continues to fulfill its mission and Lend a Hand for Hope. For more information on fundraising events, or to see how you can help, go to www.michaelshope.org.