October 18, 2014 - 8:35am
Moran credits the entire Le Roy community for his 200th win as Oatkan Knights head coach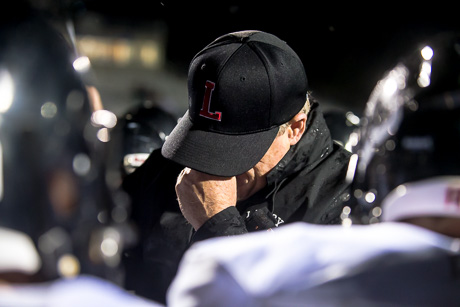 Coach Brian Moran will tell you, he feels fortunate to run a football program in a place like Le Roy, where the kids are tough, the community cares and parents understand he always has the best interest of their children at heart, even when he's trying to instill in them the discipline necessary to win at football and win at life.
He doesn't take credit for his career milestone of 200 wins. He shares it.
"It really is just a credit to our coaching staff," Moran said, after an emotional meeting with his team near the western end zone of the Perry football field following Le Roy's 45-6 win over the Yellowjackets. "I'm proud of everybody who's worked with us, our community, our school. You know, you don't get to 200 by yourself. We had great people along they way and I really appreciate what they've done for our program."
Moran is the fourth coach in Section V history to reach 200 wins, and only the second to get all 200 wins with the same school.
Gene MastIn, who retired after the 2012 season, is the Section V record holder at 236, and all his wins came at Hornell. Earlier this year, Fairport's Dave Whitcomb, who has coached five different teams, got his 200th win. Rounding out the 200 win club is Don SantIni, with 206 victories, including 50 notched in the years he coached Le Roy.
Moran's milestone victory was helped along Friday night by some of the same names who have carried the team all year. Mike McMullen, Ryan McQuillen, Tom Kelso, Nick Egeling and Jon Pierce, who all had big nights to help propel Le Roy to a rout of a young, but talented Perry team.
McMullen, who went over 3,000 yards passing for his career and set a new school record, said he was proud to be part of Moran's milestone victory.
"It feels great," McMullen said. "I've been with him four years. I can't put it in words right now. It's just awesome. I know it means a lot to him. It means a lot to everyone around here. Le Roy football. Coach Moran. You know, everyone knows who we are because of coach."
The Yellowjackets are a team with a couple of quick strike weapons in QB Andrew Hollister and RB Wisezear Pries, both juniors, so Moran came into the game knowing the Oatkan Knights couldn't afford to let Perry score early. (Hollister ended the season with more than 1,000 yards rushing.)
On Perry's first drive, a fumble on the Perry side of the field helped bat away that concern early. Two plays after Egeling recovered the fumble on defense, he was back to carry the ball 14 yards for a touchdown, giving Le Roy a quick 7-0 lead.
It was all Le Roy the rest of the half and the Knights built up a 42-0 lead by intermission. The scoring bonanza included a pair of TD passes from McMullen to the speedy McQuillen of 40 yards and 62 yards.
McMullen finished 5 for 5 passing for 138 yards and three TD.  
Through seven regular season games, McMullen did not throw a single interception and Le Roy has lost only one fumble all season, for a +16 turnover ratio.
Moran said he's proud of how McMullen has developed as a team leader.
"Obviously, from where he was three years ago to where he is today, I believe at the start of the season, he was 16-4, so add it up, put another 7 on that, so I think that's pretty good," Moran said. "That says a lot about him as a leader of our program."
Kelso had 11 carries for 74 yards. Kelso also had two catches for 23 yards. Pierce carried the ball twice for 72 yards and a TD. Egling, three carries for 32 yards and a TD, plus a 13-yard reception for a touchdown. 
Le Roy is the top-ranked Class C team in the state, but needed some help to go into sectional play as the #1 seed, which they got from the Batavia Blue Devils, who beat Bath in Bath 49-30.
While a lot of folks on the sideline were keeping up with the score in Batavia's seesaw battle with Bath, Moran downplayed the importance of seeding after the game. He said a team has to focus on the opponent ahead of it, whoever that might be.
"You get yourself focused and you really have to be ready to play next Friday night, because if you don't play well, you go home," Moran said. "I think that's something we'll really work on all week and get ourselves ready that way."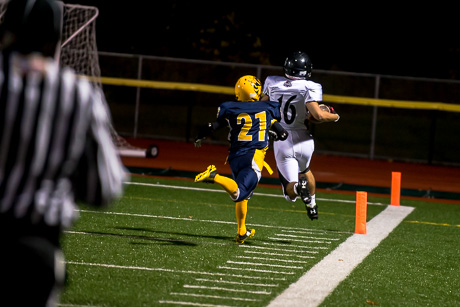 Pierce scores in the third quarter.
Hollister on his run that put him over 1,000 yards for the season.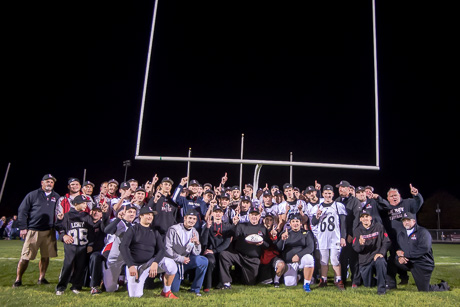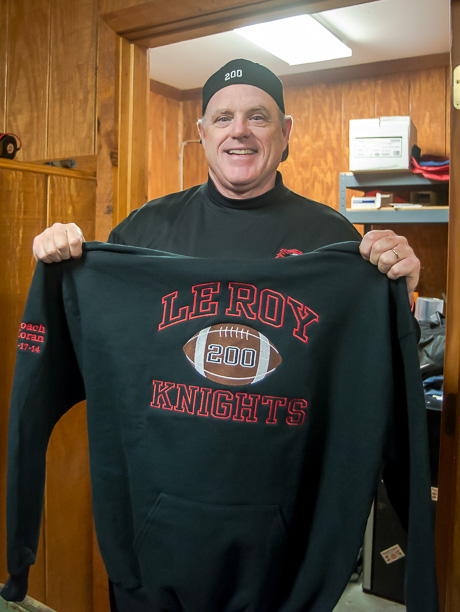 To purchase prints, click here.
October 18, 2014 - 4:15pm
#1
It's good coverage, thanks.
October 18, 2014 - 4:39pm
#2
Congratulations to ALL!!! Love the sweatshirt.
Yes, great coverage Howard. Thanks.