January 9, 2014 - 8:54am
New council president looking forward to shepherding body that works together smoothly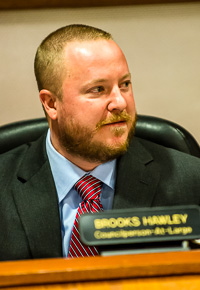 Brooks Hawley
One of the main goals of Brooks Hawley, the new City Council president, is to make sure the council works together as a team.
They will all have their own opinions, of course, but members of the council should work together as a cooperative unit as they tackle such issues as the upcoming city budget.
He even expects newly elected Councilman Eugene Jankowski and City Manager Jason Molino to bury their differences and move on.
Jankowski is a former Batavia PD lieutenant who was forced out of his job last year when all lieutenant positions were eliminated from the city's budget. Even before that, Jankowski and Molino didn't always see eye to eye.
"People may have issues with people in the past, but I think they need to move forward from that and work as a team with the other eight city council members," Hawley said.
During last night's meeting, Jankowski sought a change in the language to council rules relating to council members contacting members of city staff.
The current language is unclear, Jankwoski said, because the rules infer council members can contact department heads but they must go through the city manager's office.
Councilwoman Rose Mary Christian said she contacts department heads all the time and doesn't see the need to change the rules, but Jankowski said a memo has already gone out to city staff telling them that if Jankowski contacts them, they are to refer him to the city manager's office.
"City employees have been ordered not to talk to me," Jankowski said.
Councilwoman Patti Pacino said the rule is necessary to help prevent, as may have happened in the past, council members abusing their position, contacting department heads to get things done for a specific council member first rather than prioritizing work on a community-wide basis.
The issue of the rule change was tabled until the council's next conference meeting.
As for the budget, Hawley said he doesn't have any preconceived ideas about what budget priorities to pursue. He is eager to see what city staff presents and dig into it.
He does oppose any tax increase.
"I think we should hold the line," Hawley said. "I never want to raise taxes. That's not why I got into office. I don't have a personal agenda on anything. I want to serve the people of Batavia and I want to hold the line."
Hawley said he would like to see more recreational opportunities in the city.
For anybody expecting a change in the current trash collection system, Hawley thinks it's a dead issue.
"I believe we dealt with that," Hawley said. "It's in the past. It's not going to go back in the budget. I believe what we have now is going to be status quo."
January 9, 2014 - 10:59am
#1
And so it starts ... I gotta say this really burns me ...
While my city government split hairs about how best to communicate Batavians are being robbed at gunpoint !
January 9, 2014 - 3:07pm
#2
Private city management companies successfully run hundreds of cities across the country.
Batavia should hire one.
January 9, 2014 - 11:18pm
#3
Maybe if the City gives GCEDC a few hundred thousand dollars It would tell them how to run things... !