October 19, 2013 - 1:36pm
New food pantry in Le Roy serving a growing number of people
The lines just seem to get longer and longer each month Pastor John Gariboldi and a group of volunteers host a free food pantry in the parking lot off Mill Street Park in Le Roy.
People come from throughout the region to gather up as much food as they can carry, all provided by Foodlink at no cost.
And it's good food, too. Fresh apples, bread, Greek yogurt along with sweet baked goods and cases of water.
"You get everything you can fit in your arms," Gariboldi said. "There are no requirements. Even if last week you went to another pantry, it doesn't matter."
The pantry is a Godsend, said Mary, from Geneseo, who adopted her granddaughter when she was 3 months old.
Mary is raising her granddaughter with only her Social Security check to cover household expenses.
"I got complete custody of her because her mother broke her back," Mary said. "I'll be 80 in November. I'm raising her. She's 14 now and I would love to see her graduate and I'm sure the Lord is going to let me."
Gariboldi said he's had a lifelong passion for helping the poor, the homeless and people in need. He became pastor of Penuel Christian Fellowship, 10 Main St., Le Roy, 10 years ago and started praying for the opportunity to feed the poor.
He got involved with Paul Ohlson and Care-a-Van Ministries in Le Roy.
"I met the Foodlink representative there and she said there was a high need in Genesee County and I thought, 'wow, this is a God thing,' " Gariboldi said. "I said 'would you be willing to do it in Le Roy?' and she said, 'yeah.' "
The pantry started slowly this summer, but by August, the line stretched from the parking lot up to the post office on Mill Street.
Last month, more than 100 people showed up even though it was pouring rain the entire morning.
"A long line shows that it kind of sucks," said Ashley, the mother of two children, a third on the way and a husband who can't work because of disabilities. "It shows that this place is so bad that people have to come out to get free food when there's no jobs."
Government assistance just isn't enough in this economy, Ashley said.
"I get food stamps, but sometimes food stamps isn't enough when you have growing kids," Ashley said. "They eat you out of house and home. I know it's not much, but at least I've got food on the table for my kids. They're not going to go hungry."
When people have a hard time getting food, social service experts call it "food insecurity." An estimated 14.7 percent of New York's residents live in food-insecure situations and 21.3 percent of children don't necessarily know where their next meal is coming from.
According to its Web site, Rochester-based Foodlink "rescues and redistributes more than 16 million pounds of food annually to a network of 450 member agencies in a 10-county service area: Allegany, Genesee, Livingston, Monroe, Ontario, Orleans, Seneca, Wayne, Wyoming and Yates counties."
In the past four years, Foodlink has seen a 30-percent increase in the number of people it serves.
Cheryl Maxwell, a Le Roy resident who teaches nutrition for Cornell Cooperative Extension, has been coming out to the Le Roy pantry almost from the start, and she said she's seen it grow and she thinks it's an economic issue.
"The last time out, it was pouring rain and they all came out and it was just amazing, the need that I saw," Maxwell said. "Some people might have bills to pay and if they can just get this little bit of extra food it might help them pay an electric bill or something throughout the month. With the economy the way it is, that little bit of food might help them get by and pay an extra bill."
Tracy, friends with Ashley, and a Batavia resident, said she has "a houseful of children" and a grandchild with cystic fibrosis. The food bank is a big help, she said, and not just because of the free food. It's also nice to know there are still people who help others.
"Even if it's just one bag of food, that bag of food is maybe a day or two worth of meals for a family that's having a rough time right now, so it really benefits them," Tracy said. "People need it nowadays to see that there are people out there who really do care."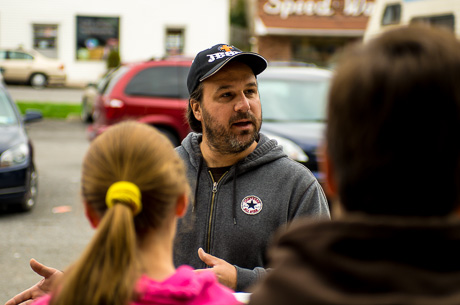 Pastor Gariboldi delivers a mini-sermon for volunteers followed by a short prayer minutes before the food pantry line opens.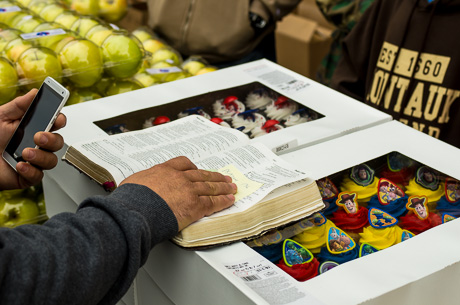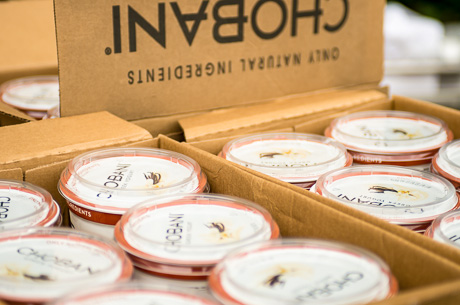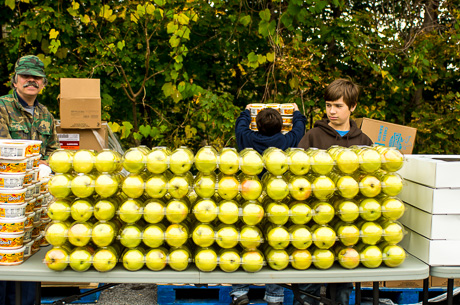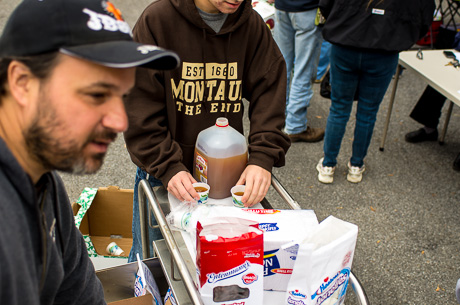 While Pastor Gariboldi hands out donuts, his son fills cups with cider for people waiting in line.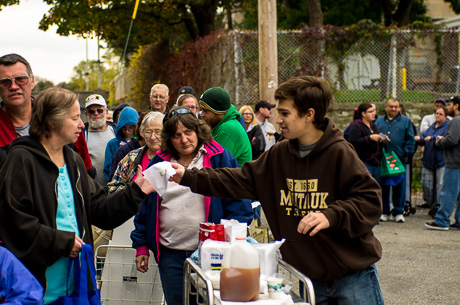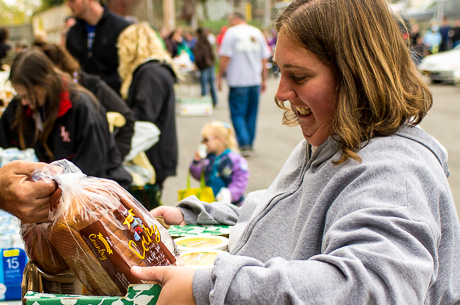 Sarah, from York, said with she and her husband and their child on a limited income, the free food from the pantry is a big help.
Mary brings her own cart to the pantry to gather food for her and her 14-year-old granddaughter, whom she's raising on just her Social Security benefits.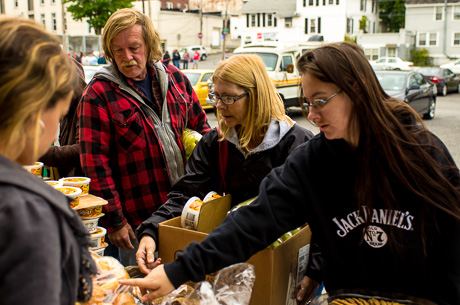 Tracy, left, and Ashley.
October 19, 2013 - 3:47pm
#2
"Proof positive that all good things come from people and community not government."
Well except for this part....
The term "USDA" refers to the type of foods available through The Emergency Food Assistance Program (TEFAP). TEFAP is a federal food distribution program sponsored by The United States Department of Agriculture. USDA-donated foods are distributed at no cost to emergency agencies via Foodlink. A member agency is considered USDA-eligible if it falls under the above definition of an EFP. For more information, contact Agency Services at (585)328.3380 x148.
----
Congress appropriated $299.5 million for TEFAP for FY 2009 – $250 million to purchase food, and $49.5 million for administrative support for State and local agencies. This represents an increase of $60 million over the funding provided in FY 2008.
Further, with enactment of the American Recovery and Reinvestment Act of 2009, Congress provided an additional $100 million for FY 2009 TEFAP food purchases, as well as an additional $25 million for TEFAP FY 2009 administrative support.
In addition to commodities purchased with appropriated funds, TEFAP receives surplus commodities. In FY 2008, approximately $178.1 million worth of such commodities were made available to TEFAP.
--------
It is awesome that part of the funding comes from the kindness of peoples' hearts...but dont be fooled to thinking community would EVER be able to donate what is necessary for the citizens of one of the richest countries in the world to not go hungry without the help of that big bad govt.