November 6, 2013 - 12:21am
No clear winner yet in attempt by GOP to unseat only Democrat on County Legislature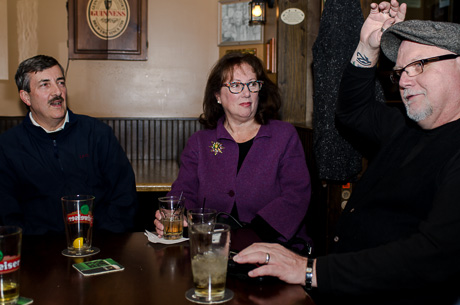 With only 21 votes separating the two candidates for the District 9 seat on the County Legislature and 100 absentee ballots yet to be counted, neither incumbent Ed Dejanerio nor challenger Bob Bialkowski were interested in predicting the outcome of the race.
"I'm in the minority and who knows," Dejanerio said, acknowledging his role as the sole Democrat on the Legislature as well as the slight registration advantage for the GOP in District 9. "I do my best and that's all I can do."
Both candidates worked hard, they said of each other, and presented a stiff challenge throughout the campaign.
The unofficial tally has Dejanerio up 362 to 341.
Dejanerio is simply hard to beat, Bialkowski said.
"There's a lot of Democrats in the district," Bialkowski said. "Ed's been there a long time. Ed's a likable sort of guy. People like Ed. I'm pleased I've done as well as I have. Other people have tried running against Ed but have never done so well."
City GOP Chairman Matt Landers agreed.
"It's hard to beat an incumbent," Landers said. "Ed's been there a long time. He's beaten Republicans in the past. Bob worked really hard and we'll see how it breaks."
Things broke better for the GOP in the other three contested Legislature races.
Shelly Stein beat Earl Funderburk 1087 to 427 in District 5. Gregg Torrey beat incumbant Esther Leadley, a Republic who didn't get her party's nomination, 706 to 373, and the race was apparently made closer by the presence of a Libertarian on the ballot. Marianne Clattenburg beat Bill Fava 385 to 271 with Bob Brown picking up 82 votes.
"Bob did hurt us," Landers said. "We were worried that he would peel off Republican votes and it was relatively close between Marianne and the Democrat."
None of the big issues facing the County Legislature seemed to play a role in voters' decisions, based on the feedback candidates were getting while walking precincts. Voters rarely mentioned the nursing home, the Genesee County Economic Development Center, mandates, or hiring more jail guards.
People were concerned about taxes, but in the District 9 race, there isn't much difference on the issue between Dejanerio and Bialkowski.
"People are against any kind of property tax increase," Bialkowski said. "People in the city are hard pressed right now and when they hear that they're going to have a public hearing on going over the tax cap, that doesn't sit well with people. It doesn't sit well with me."
Top photo: Ed Dejanerio, city council candidate Diana Kastenbaum with Pat Burke at O'Lacy's while awaiting election results.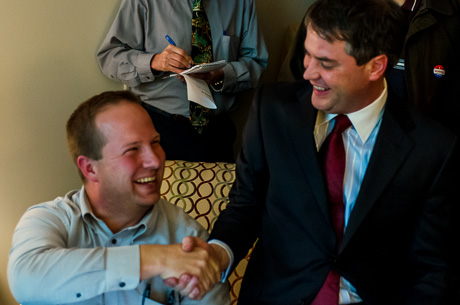 Matt Landers congratulates Gregg Torrey on his District 6 victory.