April 17, 2015 - 9:27am
Notre Dame beats Lyndonville 4-3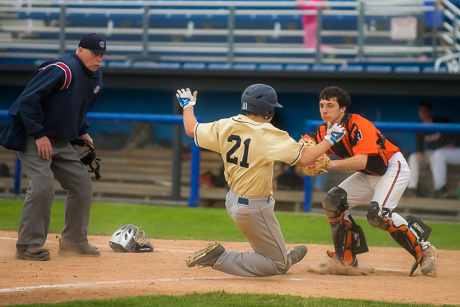 Notre Dame came from behind to beat Lyndonville 4-3 at Dwyer Stadium on Thursday.
Top photo: CJ Souzzi is out at home trying to score the team's fifth run after Larry Infantino had crossed the plate a moment before on Peter Madafferi's double.
Here's Coach Mike Rapone's game summary:
Tyler Prospero pitched six strong, scoreless innings to pick up the win in relief of starter Casey Midwick who left with tightness in his pitching arm as ND rallied to win 4-3. Prospero's line was 6 innings, 2 hits, 0 runs, 6K and no walks. Lyndonville's had a 3-run first on a Brandon Schoolcraft RBI double and Eric Nease's 2-run triple. The Irish responded with two first inning runs on Mike Falitico's RBI groundout and Michael Muehlig's 2-out RBI single. They tied it in the fifth when Cal Tygart tripled to deep center and scored on another Mike Falitico RBI groundout. The winning run was scored by Larry Infantino, who walked, moved to second on CJ Suozzi's single and scored on Peter Madafferi's RBI double.