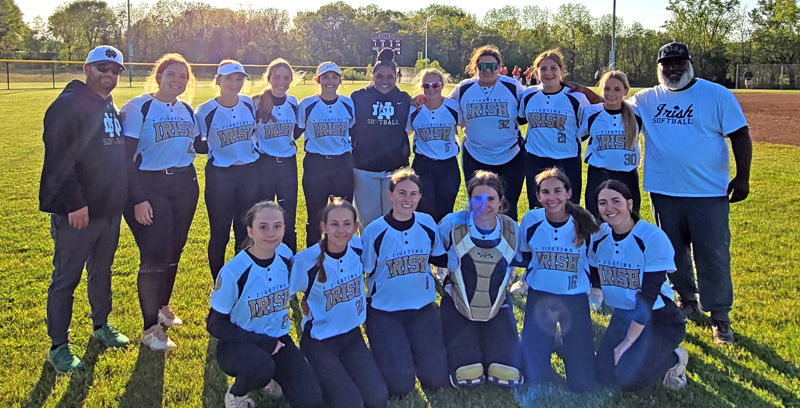 Notre Dame, the #4 seed in Class D, jumped on top-seeded Keshequa early, scoring two runs in the first and two runs in the third inning and then held on for the 7-4 victory in the Girls Softball Section V semifinals.  
Keshequa threatened with three runs in the 6th inning, aided by two Irish errors, but back-to-back strong plays by shortstop Katie Landers (6-3 each time) ended the Keshequa rally.
Loretta Sorochty pitched the complete game for the Lady Irish, going seven innings, giving up six hits, four runs (1 earned) and striking out six batters.  Sorochty helped her own cause with 4 fielding putouts during the game.  
Keshequa pitcher Aurora Sabins pitched a complete game, 7 innings, giving up 10 hits, 7 runs (4 earned) and struck out 11 batters. 
Offensively for Notre Dame, four different batter had two hits each: Sorochty, Landers, Mia Treleaven and Emma Sisson.  
Sorochty helped her pitching effort with a sixth-inning solo shot over the left field fence, along with a single, two runs scored, and one RBI. Landers had a double, single, one run scored and one RBI, Treleaven had a double, single and two runs scored, while Sisson had two singles.  Kaydence Stehlar had a single, one run scored, and one RBI and Sonji Warner had a double and RBI
"The ladies are really playing as a team right now, and it is great to watch," said Coath Otis Thomas. "I told them the job wasn't finished tonight, we have one more game to get. We will enjoy this tonight but be back to work tomorrow to prepare for the finals on Saturday."
The Irish will play for the Class C Section V block at Filmore High School on Saturday at 1 p.m. against Lyndonville.
Submitted info and photo.