November 16, 2013 - 8:01pm
Oakfield teen's first deer bow hunting is an albino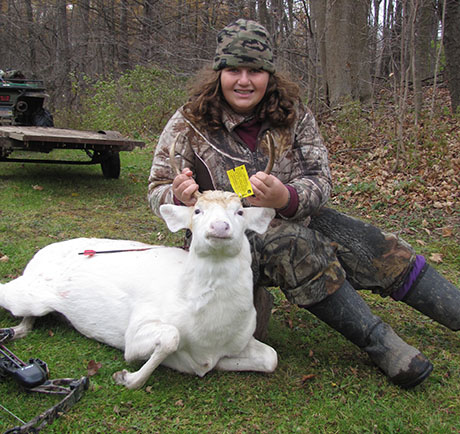 Emily Staniszewski, a 14-year-old Oakfield resident, killed her first deer this week bow hunting, but not just any deer. It's an albino buck.
She made the kill of the three pointer in Chautauqua County.
Kimberly Staniszewski said the deer is quite the trophy for her daughter.
"Needless to say we are planning on having a full mount of this unique animal to admire for many years to come," Kimberly said.
November 16, 2013 - 8:47pm
#1
The eyes look awful dark to be albino. I do know there is a breed of white deer in NY. It's common on the lands of the Seneca Army Depot as it was accidentally fenced in when they enclosed the base. I have pictures and video of them so I know they aren'y albino as they do have pigment. This one has black eyes and it looks like a stripe of regular deer color above the yeys like an eyebrow. Either way a once in a lifetime trophy. Congrats Emily