Image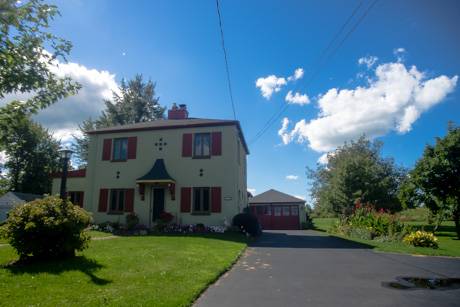 Landmark article by Loren Pflaumer:
When local Oakfield general store owner Charles H Griffin needed a wedding gift for his son and daughter-in-law, he decided to build them a house.  In 1925, he hired an architect from LeRoy named Charles Ivan Cromwell to design the home. Unfortunately, no records could be found as to why he chose this Spanish Eclectic style, so unique for our part of the country.
Charles Griffin passed away before the house was completed in 1928 and his son never moved in. The property became a rental and remained so for 20 years until the next owners, the Messinger's bought it and lived there until they retired to Florida in the 1990's. Patricia knew this house well.  She grew up in Oakfield and rode the school bus down North Pearl Street every day.  She was considering buying a house when she saw this one come up for auction in 2003. She didn't make it to the sale, but fortunately for Patricia, the deal fell through, and the home was up for auction again. This time she went and won the house.  She is only the second homeowner to live in the house.
In the ten years she's lived here, she has done an amazing amount of work.  The exterior boosts beautiful new windows and a fresh paint job. Stafford Painters were called in to update the home's color scheme. After a few color combination suggestions, Patricia selected what she calls the most "subtle" colors highlighting the unique geometric decorative tiles as well as complimenting the brick sills, stoop and walkway. The original front door with its offset window panes is classic Spanish style and sports its own shade of blue.
Patricia has not neglected the interior either. In order to make the inside of the home reflect its Spanish style, two doorways were rebuilt as archways to match an existing arched doorway. Dark wood paneling was removed and matching stucco was applied. The existing oak flooring was repaired where damaged and the center stairs were stripped and refinished. Original features were saved and prominently displayed such as the fireplace, lighting and hardware.  The kitchen is new and flows into the dining room seamlessly with continued oak flooring.
Inside and out, the property represents Patty's style. When I met Patricia and told her of her award nomination, her response to me was "thank you, I really tried to keep the character of the house".   The grounds are nicely landscaped and she should get an additional nod for best adaptive re-use. If you look closely at this beautiful gazebo, you can see that the roof is nothing more than an overturned satellite dish rescued from the Alabama Hotel.
Patricia is quick to acknowledge the endless help and support she received from her parents.  Her father was always around with his handyman skills and time. Her Mom provided food, lodging and pep talks. She is also credited with painting the garage doors.  Patricia couldn't be here tonight as she is out of town visiting her grandchildren. It's a shame we couldn't honor her in person, as she may be the happiest winner I can remember.  Accepting the Genesee County Landmark Renovation award for Patricia are her parents Alan and Ruth Myers