September 12, 2012 - 8:53am
Pavilion mother faces second felony DWI charge under Leandra's Law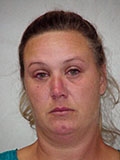 A Pavilion mother, charged just three months ago with driving drunk with children in her van, has been arrested again and charged with same crime.
Angela A. Kruse, 40, is again facing a felony DWI charge following a one-car rollover accident on Taylor Road in Covington on Sept. 8.
Kruse allegedly had her 5-year-old daughter in the vehicle.
In late June, Kruse was arrested in Le Roy after State Police received a tip that she was driving drunk with her child in her car. The felony DWI count, under Leandra's Law, is still pending in Genesee County.
Last week, State Police in Warsaw responded to the accident and were told a woman and a small child had fled the scene.
Kruse and the child were located at a residence on Morrow Road.
Both mother and daughter suffered minor injuries and were taken to Wyoming County Hospital.
Following arraignment in Covington Town Court, Kruse was jailed on $15,000 bail.
September 12, 2012 - 9:01am
#1
First, this POSs license should be revoked immediately as she has demonstrated she can't stay out of trouble with the law while her first case is still before the court.
Second, it's also obvious she has no wish to follow her attorney's advice, which no doubt included abstaining from drinking alcohol.
Third, why isn't she charged with endangering the welfare of a child in this second offense?
She gets drunk, drives, has her young child in the vehicle with her, has an accident( a roll over accident), and instead of getting help for her child, she scoops her up and leaves the scene.
Really?