August 17, 2011 - 12:57pm
Photo: Batavia's new Mexican restaurant now open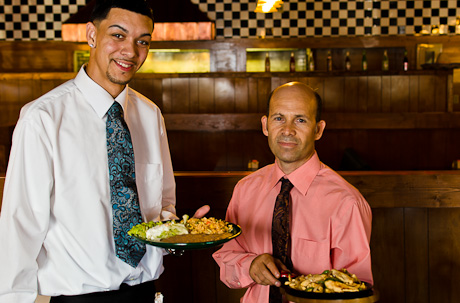 Rancho Viejo, Batavia's new Mexican restaurant, opened at 11 o'clock today.
Owner Leon Ramirez, right, said he decided to open a restaurant in Batavia because it seemed like a good market and there was no Mexican restaurant in Batavia.
Ramirez completely remodeled the former Ponderosa location on Ellicott Street.
This is Ramirez's fifth location. He also owns Mexican restaurants in Mt. Morris (his home), Cornell, Waterloo and Fairport.
"I invite everybody down to give us a try," Ramirez said. "I promise them very real Mexican food."
Pictured with Ramirez is Jonathan Martinez.
August 17, 2011 - 2:10pm
#1
So very excited about this!
August 17, 2011 - 3:41pm
#2
Looks great! I can't wait to try it out! Great Location!
August 18, 2011 - 7:16pm
#3
That's awesome news Leon, congratulations. As far as there being no other Mexican restaurants in Batavia, I'm not sure that's actually the case. Anyway, there's definitely room for some quality authentic Mexican food in Batavia. It's nice to see that former Ponderosa location revived as well.