September 9, 2011 - 6:36pm
Photo: The Laughing Buddha opens on Ellicott Street, Batavia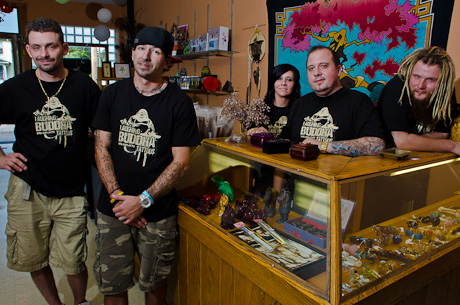 The mini-boomlet of new businesses opening on Ellicott Street, Batavia, continues with The Laughing Buddha at 440 Ellicott St.
The Laughing Buddha offers tattoos, piercing and a gift shop.
Pictured are tattoo artists Eric "Crazy Goose" Weis, left, and James "Jimi" Soccio, along with Ashley Keene, who handles the front counter, owner Jay Lang (who also owns Batavia Cab Co.), and Eric Betz, piercer and store manager (Betz is formerly of Time Bomb Tattoo).