November 10, 2012 - 9:51am
Photos: Artist opens new show this week at Roz Steiner Gallery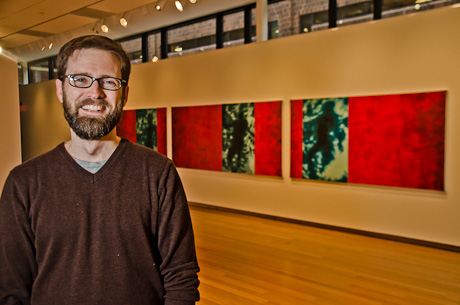 Yesterday afternoon I stopped by GCC to meet artist Dale Inglett and see the installation of his new show at the Roz Steiner Gallery. From what I could see during my short visit, the show looks like it will be visually interesting and well suited to the bright space and clean lines of the gallery.
Here's a press release from GCC about the show:
The large, clean and adaptable space of the Roz Steiner Art Gallery will host an exhibit by Alfred University Assistant Art Professor Dale Inglett, slated to open on Thursday, Nov. 15, and continuing through Jan. 3. Inglett's "Transient Beings" series includes large-scale canvasses, drawings and videos that examine both the connections and the divisions between the mind and body.
Gallery Director Shirley Tokash Verrico says the figurative images "allude to human transformation and capture a sense of transience and movement. It's an exciting opportunity to see an artist explore a unified concept through a variety of media." She notes that the artworks are an ideal fit for the new gallery which continues to draw more than 300 visitors each month.
Inglett is the recipient of a Strategic Opportunity Stipend from the New York Foundation for the Arts and has exhibited around the world, including the Neon Gallery in Brosarp, Sweden; the Georgia Museum of Art in Athens, Ga.; and Hallwalls Contemporary Arts Center in Buffalo. His works in painting, printmaking and video explore aspects of identity, time and existence. He received his MFA from Studio Art, Lamar Dodd School of Art in 2004 from the University of Georgia, and his BFA from Augusta State University in 1998.
Inglett's "Transient Beings" exhibit stems from an investigation "between physiology and psychology and include the viewer in an exploration of mortality. I make figurative images that allude to human transformation and non-objective images that capture a sense of transience and movement. My studio practice centers on painting and incorporates drawing, digital media, video and, at times, printmaking."
He uses the printmaking processes to create the footage for the video "Patriarch, Matriarch," yielding both prints and video in the exhibition. The content of the video work is ephemeral and fluctuating with images dissolving and continually shifting to indicate a mutable, transformable nature of identity.
The paintings, however, build on patterns and reticulations of fluidly painted surfaces. Through the pairing of individuals with fleeting qualities in the different media, Inglett alludes to human transformation, transience and passing. While informational aspects of historical photographs are diminished, relationships and family are emphasized.
For further information about this exciting artist visit his Web site: http://www.daleinglett.com/index.html
An artist reception is scheduled at 1 p.m. on Thursday, Nov. 15 at 1 p.m. Mr. Inglett will also visit the Batavia campus and his exhibit on Tuesday, Dec. 11 as part of the special Encore Celebration. It will feature the Buffalo Philharmonic Orchestra performance for Genesee Community College Foundation's annual student scholarship fundraising gala.
The Rozalie "Roz" Steiner Art Gallery is adjacent to Genesee Center for the Arts at Genesee Community College Batavia Campus, One College Road, Batavia, NY 14020. The gallery hours are generally Monday, Wednesday, Thursday and Friday from 10 a.m.- 4 p.m. and during special events or by special appointment. Contact Shirley Verrico at (585) 343-0055 ext. 6490 or [email protected]. The gallery Web site: www.genesee.edu/campuslife/arts/gallery/
For door-to-door driving directions visit: http://www.genesee.edu/about/visit/maps.cfm.