July 2, 2014 - 10:42pm
Photos: Batavia Concert Band opens 2014 season in Centennial Park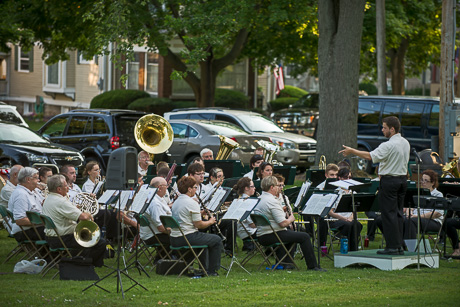 The Batavia Concert Band kicked off its 2014 summer season at Centennial Park this evening. 
The season has been dedicated to the late Wayne A. Burilson, conductor, who died March 26 at age 37.
The guest conductor tonight was John Kresse.
Shows this year are scheduled for 7 p.m. in the park on July 9, July 16, July 23 and July 30 (all Wednesdays).
The band will also play Friday, July 4, at GO ART!'s Picnic in the Park, which runs from noon to 5 p.m.
Speaking of Picnic in the Park and music, also performing are Stephanie Pietrzak, "America's Polka Sweetheart," at 1 p.m., and at 2:30 p.m. is "Trilogy," a four-piece classic rock and roll band, followed at 4 p.m. by Gan Ainm, playing Irish and Irish American traditional music, led by John Ryan.
And speaking of live music in Batavia, the Ramble Music at Arts Festival is this Saturday in Jackson Square. The opening ceremony is at 11:15 a.m.