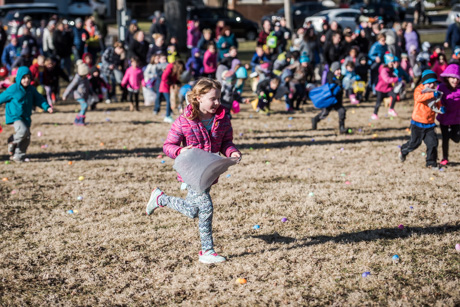 Press release:
Families in the Batavia area are invited to attend the annual Kiwanis Club of Batavia Easter Egg Hunt on Saturday, April 8 at 9 AM sharp.  The event will take place at Centennial Park with three age categories: birth-3, 4-7 and 8-10.  Along with the thousands of eggs hiding in the park, there will be nine golden eggs.  The nine lucky children who discover the golden eggs will be able to exchange them for a chocolate bunny from Oliver's Candies.

There will also be one golden egg hidden each day in Centennial Park beginning on Saturday, April 1 through Thursday, April 6.  The golden eggs will be hidden at different times each day to allow for families with different schedules to search and have an equal chance of finding them. The golden eggs are restricted to kids age 12 and under, although older siblings and family members can help search!  The winning golden eggs must be turned in at the Easter Egg Hunt on April 8th to receive an Oliver's Candies chocolate bunny.

The club is asking those who find golden eggs prior to the Easter Egg Hunt, please send pictures to the Kiwanis Club of Batavia Facebook page at facebook.com/kiwanisclubofbatavia.

Kiwanis Club of Batavia is proud to offer fun, healthy family activities that serve children in our community.  For more information, visit the club's Facebook page or their website at www.bataviakiwanis.org.  The club meets the 2nd and 4th Thursday at 12:10 at Batavia's Original Pizza and welcomes new members.