May 21, 2012 - 10:55pm
Photos: Rescue of a snapping turtle on Creek Road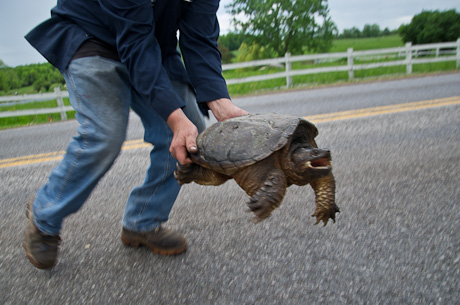 Driving down Creek Road this evening, I saw something head of me in the road. As I got closer, I thought it might be a turtle and just about that time, a car coming from the opposite direction was stopping.
John Volpe jumped out of the car and scooped up the snapping turtle and carried it over to the side of the road.
Volpe then called his father and told him about the turtle, which he said had a slight deformity in its shell and might be a female.
He told his dad his location and said he would wait for him.
Volpe explained to me that he and his father often rescue turtles. He said they would take the turtle home, ensure she (or he) is healthy. If healthy, and a female, they would hold her until she laid her eggs, then release her back into the wild, then raise the babies.
"Turtles mean a lot to us," Volpe said, who is Native American.
When his father arrived, Mary Volpe jumped out of the minivan and grabbed the turtle's shell from behind and carried it over to a plastic carry-all.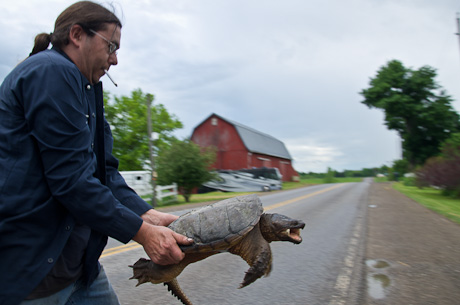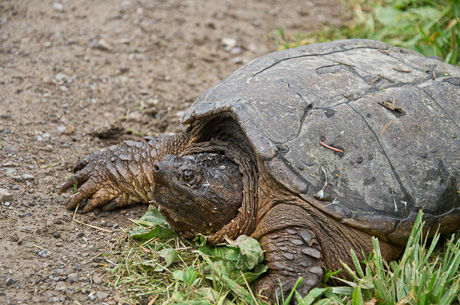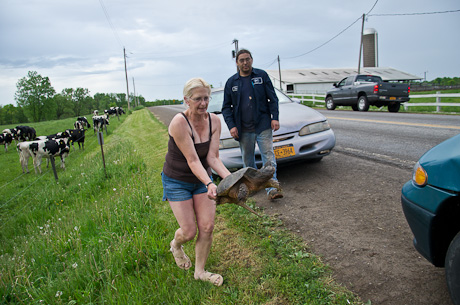 May 21, 2012 - 11:23pm
#2
John seemed pretty knowledgeable ... and his instructions for picking up a snapper -- back of the shell ... be sure you get the shell.
He said one mistake people make is to grab their tails, which is part of their spines, so you can actually break a snapper's spine and paralyze it.
Another option is to carefully run your hand up the middle of the shell (tail toward head) and grab the shell just behind the head.