June 30, 2011 - 2:09pm
Political student from Batavia launches first election campaign in front of city hall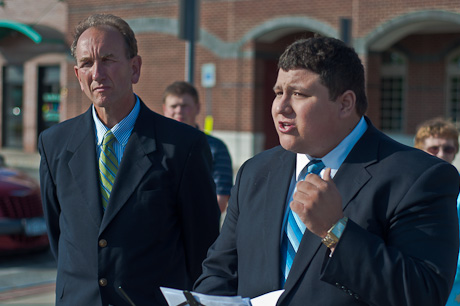 Dan Jones, a regular contributor to The Batavian, announced Wednesday he will mount a primary challenge against a council candidate already endorsed by city Democrats.
While accusing unnamed Democrats, who are apparently opposed to his candidacy, of already fighting dirty, Jones promised an issue-oriented campaign.
"I believe in order for the city to move forward, council must support policies that are progressive, fiscally restrained and totally transparent," Jones said.
While Jones is endorsed by the Conservative Party, he is taking on Kathryn Balbick Bellamy, endorsed by the Democrats, in a Third Ward primary.
Jones was joined in front of Batavia City Hall on Wednesday by Assemblyman Mark J.F. Schroeder and Councilwoman Rose Mary Christian.
"Dan Jones loves this business," said Schroeder, whom Jones worked for as an intern in Albany. "He loves the business of governance. He loves to help constituents. He loves politics."
A recent graduate of Canisius College, where he majored in political science, Jones was born and raised in Batavia and professes a love for the community and concern about its future.
Besides joining in the conversation on The Batavian -- something he promises to continue doing, even after elected -- Jones has been seen at many city council meetings over the past three years and has spoken out on issues from the ambulance service to consolidation.
Jones, 23, says he is self-employed.
Christian, also a Democrat, said she is supporting Jones because he is involved and outspoken.
"He's not afraid to speak out," Christian said. "Even some of my colleagues are fence sitters who won't take a stand unless somebody tells them where to go. That's not me and that's not this young man."
Jones said he is seeking office with high ideals and an ambition to do what he believes is best for Batavia.
"I seek this office not so it becomes another notch on my resume," Jones said, "I seek this office not because I believe I have a popular last name or because I feel I am entitled to it. I seek this office not for revenge. I seek this office because I believe that Batavia needs to be a leader in our region, and indeed the entire state, in having good government that's responsive to the needs of all of its citizens."
Below, video of the event produced by The Batavian's news partner, WBTA:
June 30, 2011 - 3:13pm
#2
Dan, thinking about moving back, just to vote for you. PS. I wouldn't use the word humble again. Dan Jones isn't humble, he's a fighter.