December 5, 2012 - 9:44am
Property between Lewiston and Main will be more than just a Tim Horton's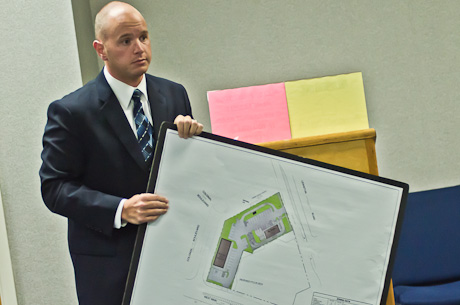 A Tim Horton's is only the first phase of planned development for a parcel of property wedged in between Lewiston Road, Main Street and Colonial Boulevard, the developer revealed Tuesday night at a Town of Batavia Planning Board meeting.
Besides the coffee shop, Benderson Development Co. plans to erect a retail building and a drive-thru ATM location.
No tenants have been found for those uses, yet, said Matthew J. Oates (photo), the company's chief engineer, but the company didn't want to surprise planners later, after Horton's is approved -- assuming it is -- with an expanded development.
Kathy Jasinski, board chairwoman, said the town only found out about the planned additional uses on Monday.
Benderson has recently completed a traffic study covering the anticipated impact of both Tim Horton's and the proposed retail location and those results were turned over Monday to the town and the DOT for analysis.
Town Engineer Steve Mountain said that traffic study will be given to the town's traffic consultant for review.
Traffic was one of the chief concerns raised by town residents, primarily those on Colonial Boulevard, who attended Tuesday's public hearing on the Tim Horton's plan.
Lewiston and Main is already a congested intersection and traffic patterns down Main Street can make it difficult, Colonial Boulevard residents said, to get on and off their street.
What that traffic impact will be and how any problems might be mitigated remains an open question until both the town's consultant and the DOT complete an analysis of the traffic study.
The board made no decision about the planned development, but did begin the process of declaring itself the lead agency for environmental review purposes.
Residents also expressed concern about light and noise coming from the 24-hour operation.
Amy DiSalvo said her house is right next to the proposed Tim Horton's location and she's concerned about parking lot light spilling over onto her property as well as headlights shining on her house.
Oates said the position of the building will act as a buffer for headlights and noise for Colonial Boulevard residents, and Bob Bender, real estate project planner for Tim Horton's, said the project will use "dark sky lights," which will have zero spill over onto adjacent property.
December 5, 2012 - 12:32pm
#8
Correct Bruce and good question. No Jason, the customer demographics overlap and another Timmy's just steals from the existing coffee business along Main St. starting with McD's heading east. Right Fred!
We have existing vacant buildings in the area - use that space first. This wedge of redundant business is poor planning - whatever "sustainable" business this location generates is simply taking away from existing businesses. More drive-thru business is not what we should be encouraging either. Get some businesses that we don't currently have (i.e., places we currently drive to ROC or BUF to frequent), get businesses that draw people to Batavia, and get businesses that make things we can sell outside the community.