Image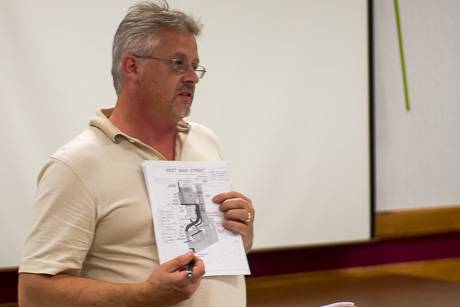 County planners took a dim view of a new Dunkin' Donuts location on West Main Street, on a sliver of a lot between First Niagara Bank and Barrett's Batavia Marine.
After raising doubts about traffic flow, parking, parking for neighboring businesses, signage, building color and design, a motion to approve the project failed 3-5.
There was no follow-up motion to disapprove the project, which is a little more favorable to developer Kip Finley (pictured above). A disapproving vote would have required the City of Batavia Planning Board to approve the plans by a majority plus one. With no recommendation from the county, only a simple majority vote is required for approval.
Still, Finley wasn't happy as he left the meeting.
"Unfortunately, county planning talks about reusing property and building where there's development and not forcing development out into green areas, except they don't vote that way," Finally said. "Fairly disappointed."
Finley acknowledged there's a lot of traffic at the proposed location, but "that's where we put stores."
Planners were concerned that traffic would back up onto the street.
The City had already asked for a lot configuration so that as many as 20 cars could queue up in line, but Finley said that if a Dunkin Donuts store ever had as many as seven cars waiting in line, it would mean the store was a poorly run location.
He said store managers strive to keep traffic moving quickly because many customers won't even stop if they see a few cars already in line.
Planning staff expressed concern about signs in front of the building because of the potential visual impact on Redfield Parkway, which is designated "culturally significant" street by the Genesee-Finger Lakes Regional NYS DOT.
The problem for the proposed Dunkin' Donuts location, Finley said is that with the bank and its trees on the east side and Barrett's on the west side, signs on the sides of building won't have much visibility.
He also said the sign needs to be internally lit to have any meaningful impact on drawing in visitors who might be passing through and are unfamiliar with the area.