March 1, 2012 - 7:02pm
Rochester man accused of dealing drugs pleads guilty, given shot at probation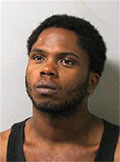 A Rochester man accused of dealing cocaine in Batavia has a chance at avoiding prision if he can just stay out of trouble while awaiting his sentence.
In Genesee County Court today, Edward J. Fuller (aka "Taz"), 21, of 1906 Parsells St., Rochester, entered a guilty plea to attempted possession of a controlled substance, 3rd.
The plea arrangement will mean what's known as "shock probation" (an intermittent jail sentence and five years probation) if he can do things such as obey his 7 p.m. to 6 a.m. curfew and stay in contact with Genesee Justice between now and his sentencing.
Fuller was arrested in Batavia on July 12 following an investigation by the Local Drug Enforcement Task Force. He was accused of possessing more than an ounce of cocaine and $3,000 in cash.
All other pending charges against Fuller were dropped as part of the plea deal.
March 2, 2012 - 7:13am
#1
good luck , someone is looking down on you . Bad news for our county though , this justifies why Rochester people come here to deal drugs , easy street even if they get caught .