April 11, 2014 - 5:31pm
Seminar focuses on broken health care system and failures of Obamacare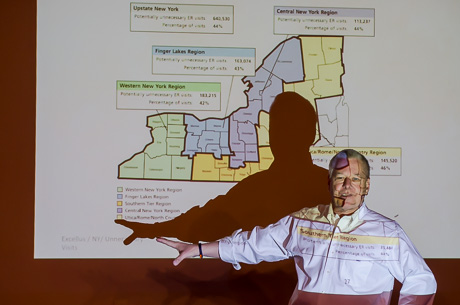 The turnout was light, but the discussion was heavy this morning in a seminar for local business owners at Center Centre about the Affordable Health Care Act hosted by Insource Urgent Care.
Bottomline: The cost of health care is continuing to escalate, Obamacare won't fix it, and eventually Washington politicians will push for a single-payer system.
Insource CEO Mark Celmer opened the discussion this morning with a presentation about the bureaucracy created by the Affordable Health Care Act and the expense of emergency room visits vs. patient visits to urgent care centers.
The AHC was originally passed as a 2,500-page piece of legislation four years ago. After 38 amendments and executive orders, it's now more than 20,000 pages and stacked from floor to ceiling, it stands taller -- at 7' 3" -- than Wilt Chamberlain (7' 1").
Hundreds of government agencies have their hands in AHC administration and oversight.
And it does nothing to bring down the cost of health care, Celmer said. But it does make insurance companies richer.
"The Obama Administration has protected all the major insurance companies with the promise of new premium revenues from the 48 million uninsured," Celmer said. "He has written into the law provisions to guarantee revenue to them (the equivalent of a TARP Bailout) in the event insurers' medical payments fail to produce profits. This hidden element of the ACA is called the "risk corridor" and guarantees up to 80 percent of the insurance companies profit. This is the reason that the insurance companies and pharmaceutical companies have remained horribly silent on the negative effects of Obamacare on the middle-class working population."
Dr. Victor DeSa, a retired general surgeon and former member of the UMMC board of directors, spoke at length about why the health care system is broken.
Real problems started with the creation of Medicaid and Medicare in the 1960s. The two programs are rife with fraud, waste and abuse.
"Now you have your insurance card and you can overuse it all you want," DeSa said. "The incentives have changed. When you paid out of pocket, you didn't overuse the system."
Insurance company statistics, Celmer said, that nearly 50 percent of emergency room visits are unnecessary.  People use emergency rooms for dozens of routine ailments that could be better treated by a doctor's office visit or urgent care center.
Millions could be saved if people used ER's less, but in the current system there is no incentive for them to think about the costs because it costs them nothing.
There is a $38 trillion gap between the amount of tax revenue coming in to fund Medicare and its actual liabilities, DeSa said.
"Ninety percent of seniors are blissfully unaware that Medicare is broke," DeSa said.
The cost of funding the run-away expense of Medicaid is borne by local taxpayers. In Genesee County, 80 percent of every property tax dollar raised goes to Medicaid.
DeSa, like Celmer, believes that the AHC is actually intended to fail because the real goal of Washington politicians is to create a political climate where voters will accept a Canada-like, single-payer system.
Obamacare was supposed to usher in an era of health insurance for all, DeSa said, but that's an impossible goal.
Of the some 50 million people in the United States who don't have health insurance, 10 to 15 million are workers in the country illegally. They're supposedly not covered by Obamacare, but they receive taxpayer-subsidized healthcare every time they visit an emergency room because hospitals are mandated by law to treat even those who can't pay the medical bills. They won't sign up for health insurance through the exchanges.
DeSa said he doesn't object to that, however, because these workers contribute greatly to the U.S. economy and are needed by our farmers. As a matter of compassion, they should receive health care.
Then there are 10 to 15 million working poor who earn just enough to be above the Medicaid limit, but still not enough to afford health insurance even under the ACH.
The last group -- the ones Obama really wanted to rope into the system -- are the young workers, another group of about 10 to 15 million people.
"We call them the young, healthy and invincible," DeSa said. "They're they real target of Obamacare. They are supposed to buy insurance to subsidize the high-risk people who sign up through the exchanges who are older and richer. They are asked to pay two and four times what they would nomrally pay for their age and risk factors."
There is very little incentive for them to sign up, DeSa said. Yes, they can be fined -- $75 in the first year, and in a four years as much as $700. But even $700 is a lot less than paying $12,000 or more annually for a health insurance policy.
The White House has said 7.1 million people have signed up for health insurance through the exchanges, but DeSa said that's a tricky number. We really don't know how many of those people were the previously uninsured. Contained within that number are people who had private health insurance and switched plans through the exchange. There's also the group of people who liked their plan, but found they couldn't keep it. DeSa was critical of the Obama Administration for not releasing the actual number of newly insured people.
DeSa expects young people who haven't signed up yet to "game the system." If a young person develops a medical problem that requires expensive treatment, he or she will sign up for insurance, get treatment and then drop the insurance. He said that has taken place in Massachusetts, which instituted an insurance program similar to Obamacare when Mitt Romney was governor.
In three years, insurers will no longer be eligible for government subsidies, and that's when premiums will start climbing and consumers will start complaining and Obamacare will start failing.
"Obamacare is really a two-phased system," DeSa said. "The first phase, the phase we're in now, is designed to fail. It will drive insurance rates way up and then the politicians can say, 'we told you, the insurance companies are the bad guys.' "
That will create a climate more receptive to a single-payer system.
Celmer said insurance companies bought into Obamacare because they didn't realize it was really a system designed to put them out of business.
DeSa likened the government's handling of Medicare and Medicaid to "the gang that couldn't shoot straight" and he wonders how the feds can handle a single-payer system.
"Medicare and Medicaid are broke," DeSa said. "What gives you the confidence they could run single payer?"
April 12, 2014 - 11:43am
#4
That's what I was thinking the whole time, Dave.
If you watch those videos I posted, the professor concludes with the observation that we're about to go over the cliff in several key areas all within the same time period -- The Baby Boomer's hitting retirement age, the Medicaid Medicare mess, military expenditures, climate change, decline in available fossil fuel resources, out of control debt -- all hitting this nation about the same time, within a 10 to 30 year period.
And we keep piling on more and more complexity.