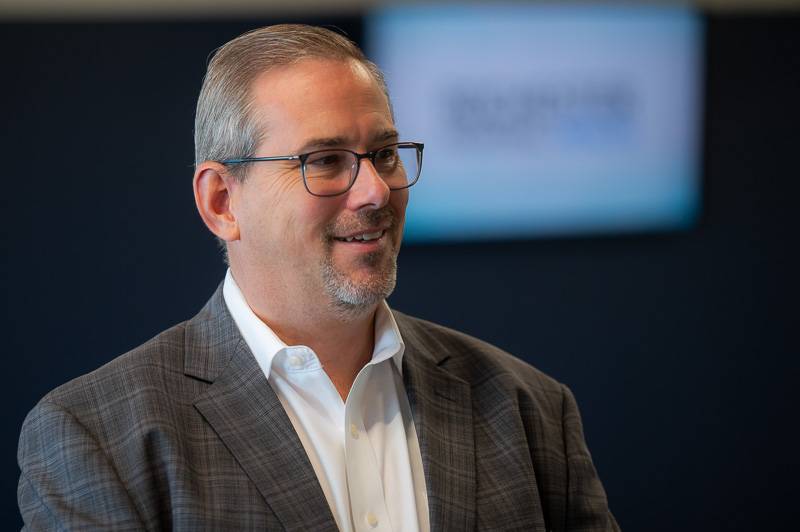 As with any major construction project, there were a few delays for the Batavia Medical Campus on the north side of the Thruway entrance; however, a preview glimpse of the campus Wednesday showed off the multi-floor, 95,000 square-foot facility with ample windows and natural light that's now ready to serve, officials say.
Dr. Shan Dhanda is among the first occupants to move in, offering family medicine services. 
"We'll be moving in as of Monday. We're very excited about that. It's a combination practice of Batavia Internal Medicine as well as the old Oakfield Family Medicine, which Dr. Barcomb owns. We're very excited to move in here and get going,"  Dhanda said during a media tour of the spit-polished site at 8103 Oak Orchard Road, Batavia. "What's fantastic about the facility is that for patients, it's a nice resource where they'll be able to get multiple aspects of their medical care underneath one roof. So a patient can come in here and at the same location, they can have their primary care provider, they can have their cardiologist, they can have their orthopedic specialist. They can also bring their kids in here for the pediatric department. In addition, they can get their lab work done here, as well as their imaging. So it's a very nice resource for the community."
Come Monday, the Rochester Regional Health facility, easily visible from Route 98, is open for business, with more than a dozen specialty offerings, including cardiology, neuroscience, otolaryngology, orthopedics, plastic surgery, primary, urgent and pediatric care, and vascular surgery, a patient draw laboratory and imaging center.
There will be some shifting of offices and services from other areas within the city that are closing to move over to this new location and make room for new purposes, including imaging, the laboratory, orthopedics, pediatric and cardiology care.
Daniel Ireland, president and chief operating officer of the Fingerlakes Rural Hospital for RRH, said that the facility is designed and created to be an access point for a variety of different services related to health care — offering "everything from primary care and pediatrics through specialty care such as orthopedics, general surgery, vascular surgery, plastics and bariatric surgery."
"We're also going to offer a comprehensive cardiology office and clinic here and neurology services inclusive of pain management and pain management therapies. Additionally, the site will be the home of a new urgent care that will have replaced the urgent care from the Jerome Center, as well as lab and radiology services, including ultrasound DEXA, scanning mammography and Gen X-ray services here in the building," Ireland said. "We are bringing a lot of services from disparate locations to one. It brings all those services under one roof. So from a patient experience standpoint, they are coming to one destination in order to get the care that they need. But even further, it allows us to expand the amount of services provided in many of the locations today. We've reached the limit of those buildings to be able to offer additional services and bring in more physicians.
"And so this building has allowed us to add, for instance, in cardiology, we've been able to add two additional cardiologists to the program and be able to rotate through specialty cardiologists into the community here," he said. "So it not only expands, in relocates services under one roof, it allows us to grow and offer more services to the community, and hopefully improving access for those around us."
The new building has an updated blueprint and technology, versus the more antiquated locales, the former St. Jerome's Hospital of decades ago, for example, he said. 
"They're not efficiently designed for today's style of medical practice. You'll note when you walk through some of the facilities here we have what we call an on-stage off-stage area where patients will enter one door to the exam room, and the clinical team will be behind another door to be able to come in. And that allows for highly efficient care and keeps care moving through the process," he said. "Those existing facilities don't have the geographic footprint to be able to do that. Additionally, we have a number of buildings, especially around our main campus, that have reached, really, the end of life. And they're going to cost significant investment to upgrade without a lot of ability to expand. So we'll be able to take some buildings down on the main campus and improve parking around the hospital, which is a win-win, as we're able to grow services in the community but also make access to the main hospital just as convenient."
Ireland is aware of the fears expressed by some people that this new place is out of bounds for someone with no dependable means of transportation and too far for one to walk. The new location is a strategic position for patients from both inside Genesee County and also from Orleans and Wyoming counties that seek care from RRH specialists, he said.
"I think patients are going to find that to be convenient. I know initially, the fear is that it is traveling right outside the city. But we are very, very close to the city line. We have coordinated with the regional transportation services, and they are able to offer patients transportation out here on demand. So patients who don't have the ability to drive will still be able to get to this campus very easily and conveniently," he said. "And for those that are driving, it is really right over the Thruway bridge. So I think the little bit of drive out to the facility will be offset by the convenience they're going to get by the amount of services they're able to access in one stop, and hopefully make life for their health care much easier."
What's more, those who do drive can park in the garage underneath the building during winter to avoid a blustery walk to their vehicle to and from the appointment. That accommodation, plus easy access to offices and natural light, was incorporated from staff and patient surveys during the planning phase of the project. 
Rural health care is in crisis right now, he said. In a post-COVID era,  hospitals and health systems are downsizing, and some of the first places where that seems to be happening is in rural communities, he said. That's why the completion of the medical campus — its survival through the pandemic — is so "critically important," Ireland said.
"But what it does is it makes an investment in our rural communities and helps continue to grow access to health care, instead of shrink it in the transformation of healthcare that we are going to see going forward, that will be critically important to be able to bring care to where people are, instead of trying to ask people to drive to distant locations for care. Every time we add a layer of driving to care, we add a barrier for a lot of our patients, we want to break down those barriers, and that is part of where healthcare is going," he said. "Part of this building will also serve in some capacities to be able to link up with other specialties. So it becomes a destination point for people to get multiple types of care, even through one office in the building. So it is part of what the transformation of healthcare is leading to. And part of how Rochester Regional Health is really looking to solve the crisis in health care today."
For more information, go to Batavia Medical Campus.