August 24, 2012 - 6:51pm
Simmons' attorney vows appeal, cites jurors' pre-trial media exposure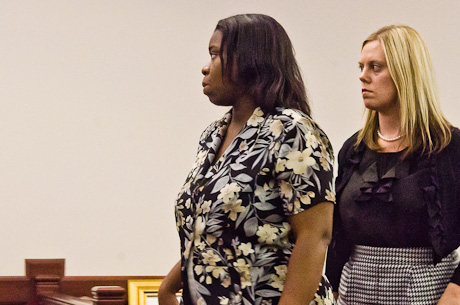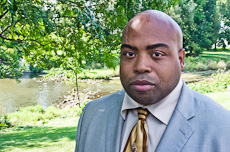 Earl Key (top photo, Jacquetta Simmons leaving court with Ann Nichols following the verdict).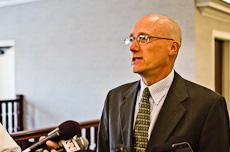 Lawrence Friedman
Asked if his client, Jacquetta B. Simmons, got a fair trial, attorney Earl Key said, "I'm going to appeal that, so we'll see."
Earlier, as reporters walked with him as he left the courthouse, Key declined to say on what basis he might appeal the conviction.
Expanding on the fair trial thought, however, Key said it's possible intense local and regional media coverage made it much harder to ensure Simmons had her case heard before a fair and impartial jury.
"I think the media coverage -- no offense to you guys at all -- definitely hurt her chances of a fair trial," Key said. "As you heard during jury selection, we didn't have one juror that said -- well, we had a couple, but not very many – who said they had not heard about this case.
"Even the ones who were on the panel had said they had formed an opinion, but they said they could set that aside and be fair and impartial, and the judge accepted their word at that."
Simmons, the 27-year-old Batavia woman convicted today in Genesee County Court of assaulting a 70-year-old Walmart employee, will be sentenced Nov. 15.
District Attorney Lawrence Friedman disagreed with Key's assertion.
"You were there for jury selection," Friedman said. "We went through an unusually large number of people to seat a jury. Obviously there were a lot of people who came through saying they had seen coverage, way more than we're used to, and they had formed an opinion and, unfortunately, many people said they couldn't set those opinions aside, and of course they didn't wind up on the jury."
Key said he was obviously disappointed in the outcome of the case and that he firmly believes the video evidence presented at trial clearly shows a Walmart employee grabbing his client's arm and that she is trying to break free of that grasp when she strikes Grace Suozzi.
"In certain spots, the video is unclear," Key said. "I don't know that they (the jury) saw it the way I saw it."
Asked by a reporter if he thought Sharon Reigle, a Walmart customer service manager, lied on the stand about grabbing Simmons, Key didn't answer the question directly, but said, "She absolutely grabbed her arm, in my opinion."
During the trial there were several profane statements attributed to Simmons that were racially charged.
Some readers of The Batavian have questioned why Simmons wasn't charged with a hate crime.
Friedman said the facts of the case didn't fit the penal code, which requires that race be proven as a motivating factor in the crime.
"Clearly there were comments made, particularly later in the sequence of events, that relate to the race of the victim," Friedman said. "We didn't see necessarily that the crime occured because of the race of the victim."
Simmons was convicted under a relatively new New York statue that makes it a Class D felony for a person 10 years younger than a victim who is 65 or older to assault such a victim.
Originally, Simmons was also charged with the more straightforward assault in the second degree charge, which requires proof of intent to cause serious physical injury.
Prior to the start of the trial, Judge Robert C. Noonan ruled there was insufficient evidence to charge Simmons with intent to cause serious physical injury, so he reduced the charge to a misdemeanor of assault, 3rd.
Without the enhanced assault 2nd charge, the so-called elder-abuse statute, Friedman would have been left with no choice but to prosecute Simmons on the misdemeanor, which carries a maximum sentence of one year in jail.
While such crime enhancements are often controversial among civil libertarians, Friedman said any time there are additional ways to charge a perpetrator with a crime it "helps keep society safer."
"I think it's appropriate for obvious reasons," Friedman said. "You're dealing with more vulnerable victims, either young children or older adults, who are more vulnerable to injuries that can be much more serious. So from my perspective, it's absolutely appropriate."
Simmons turned down a plea bargain several weeks ago that would have capped her sentence at three-and-a-half years in state prison with an available sentence to Judge Noonan of straight probation (no jail time).
Now she's facing a sentence that ranges from probation up to seven years in prison.
August 24, 2012 - 11:08pm
#7
I saw the whole thing and what I saw was..... They fought over the bag and receipt , Jac got pissed, pulled her arm back, made a fist and lam basted her with full force. There's no ifs ans or buts about it. She quilty and should just own up to it. When she did that I had instant tears for her. I couldn't believe that she could do that to someone. If you would have just cooperated and just showed the freaken receipt, none of this would have happened. But you didn't and now lives have been ruined for who knows ow long. I call you a coward!