August 5, 2013 - 2:14pm
Son of a farmer, Tillotson makes his own way in the dairy business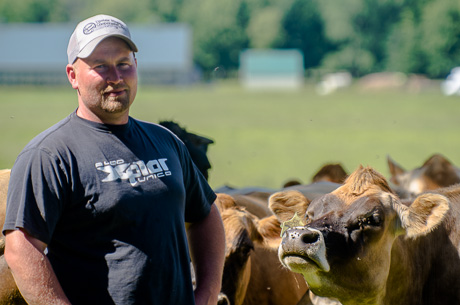 This is the fourth in our series on Genesee County's farms and farmers. For previous stories, click here.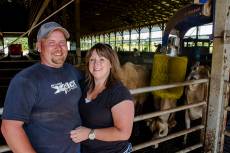 When Brent and Polly Tillotson bought their house -- a farmhouse on nearly five acres built on Sparks Road in 1855 -- it wasn't necessarily with the intention of going into the dairy business.
The property put the young couple with two children close to the 1,100-cow dairy farm of Brent's father, Dave Tillotson.
Brent worked at the farm sometimes. He also drove trucks. He liked the idea of being his own boss, especially growing up in a family of farmers, but he hadn't quite arrived at that decision yet.
Then he started to hear about how Upstate Farms needed more dairy farmers who could deliver quality organic milk.
He and Polly started to talk it over, did a little research, tried to figure out what it would take and decided they liked the idea.
It wouldn't be easy -- there's more paperwork, different yields, higher feed prices and just more work -- but it also made a lot of sense, even for a guy who wasn't into organics for health or environmental reasons.
"It was just a business decision," Tillotson said while sitting behind a small, black metal desk in  his cube of an office next to his milking parlor. "You get a contract. The price doesn't fluctuate like it does in a normal milk market. I can bank on what we're going to get paid, make plans and know I'm going to have this place paid off in a certain number of years if I just follow the plan."
Getting a little help from his father certainly made it easier to get started, Tillotson said. He could, of course, tap into his father's expertise, but Dave Tillotson also had pasture land to lease and the kind of strong reputation that helps secure bank loans, even into six figures.
"The banks weren't busting to give me a loan," Brent said. "My father helped. They know he's a good dairy man and a good business man. He's also the best resource in the world with his knowledge of cows."
Dave Tillotson down plays his role in his son's business. He says Brent is his own man. He said he doesn't want to take anything away from what his son has accomplished. He won't take credit for anything.
"I don't stick my nose in it," Dave said. "I let him run his own business. I don't have a clue about their financials or what they're doing day-to-day. They take care of all that stuff. I have my own business to run. If he needs my help, he asks for it and I give it to him. If he doesn't want my advice, he doesn't get it."
If that sounds harsh, know that Dave was smiling and laughing as he said it.
He's clearly proud of his son's business, which has been up and running for about four years.
"I came from a family where there were three brothers and the farm got split up," Dave said. "I have two boys and a daughter. I always wanted to give them the opportunity to have their own farms."
Life on a dairy farm is never laidback, especially when the farm is organic and cows need to be regularly rotated from pasture to pasture and into and out of the milking parlor. The tasks of herd management include the proper timing and care for calving, and filing out of piles of paperwork.
To remain certified organic, Polly -- who has a full-time job away from the farm but also handles the bookkeeping -- needs to file forms that cover daily animal and paddock movements for the animals, what they're eating in pasture and what they're being fed in troughs.
Organic means no herbicides or pesticides in the food the cows eat and no hormone injections to boost production.
"The cow is as good as she is," Tillotson said. "There's no pumping her up to get more production. We can change her feed around, but only as long as it's all organic."
Just to get their initial certification, the pasture had to be properly prepared, which took three years. A mix of rye, fescue and alfalfa was planted and then the grasses had to grow without any ground sprays before the organic herd could set hoof on it.
When it came time to choose cows, Tillotson went for Jerseys. The black and tan cows may be smaller and don't produce as much liquid milk, but their milk contains more protein and is said to have a creamery taste.
That higher fat content -- what the industry calls components -- commands a higher price. 
A Holstein's milk might be three pounds per hundred weight of protein, the Jersey's milk is about five pounds per hundred weight.
It costs more to raise an organic Jersey and there's less liquid, but the higher milk fat concentration makes up the difference.
"We make more off the components than off fluid," Tillotson said. "Our milk production is lower, but the compenents are higher, so that makes up for a little bit of the milk production deficit."
The organic milk market is still a fraction of the entire milk market, but the demand for organic milk grew 2.3 percent last year, according to Mark Serling, who markets organic milk for Upstate.
The boom in Greek yogurt has also meant a boom for organic Greek yogurt.
"We signed their farm and others because we continue to see nice growth on the organic milk side," Serling said. "There is also additional demand on the yogurt said. It takes three times as much milk to make Greek yogurt and that really drives the need for additional milk."
The organic milk market is one largely built on myth. There's no scientific evidence, both Tillotson and Serling note, that says conventional milk posses any problem for human consumption. The nutritional benefits are the same.
"There's nothing wrong with conventional milk," Tillotson said. "The flavor is a little different. It's processed differently, but it's good milk. It's all about what you want for your family. If you don't want the antibiotics or the hormones in your family's food or what you drink, then that's what you want for your family."
Serling said it's a lifestyle choice, a choice driven by consumers so it's what retailers demand Upstate offers as a product choice.
Asked whether it's the flavor of the milk or health concerns that spurs the demand for organic milk, Serling said, "It's all of that and more. It's the feed, the flavor, the potential for avoiding pesticides, even approved pesticides, things of that nature.
"For our organic farmers, for all of our farmers," Serling added, "we really drive hard on quality, the highest quality milk they can produce. That's our focus."
When it came time to buy the start of Brent's Jersey herd, he and his father had to travel around the Northeast a bit. Many of the cows came from Pennsylvania, but there was one memorable trip.
On the way back from picking up Jersey calves in Vermont -- calves that cost $1,200 a piece -- Brent said he got a little tired of looking at the back of his dad's trailer, so he decided to pass him on the Thruway.
Brent had a full trailer. Dave was hauling four calves. The two trucks were going about 70 mph.
Jerseys have a reputation for being pretty smart animals and Brent doesn't doubt it. His stories about Jerseys often include the notion that they draw straws to try something and if the first one makes it, the others will follow.
"So, a lady pulled up beside him yelling hysterically 'you're cows are jumping out, your cows are jumping out,' but only one had jumped out," Brent said. "I think they drew straws again and said, 'you're going first. If you make it we'll go, too'. When my dad stopped the trailer, the cows were all up front saying, 'we're not going.' "
Of course, Dave worried about what sort of damage a calf could do to a moving vehicle and when he pulled over he could see a car on the shoulder about a half mile to three quarters of a mile behind him.
Unable to turn around, Dave walked back and found a lady had used her car to pin the calf against a guard rail.
"I think she watched too much Crocodile Hunter or something," Brent said. "She had a bandanna tied around the calf's head to cover his eyes."
Dave made a leash from his belt and walked the calf -- which wasn't injured -- back to his trailer.
"We were trucking along, so you know that first step was a doozy," Brent said.
There's some other advantages of milking Jerseys that Tilltoson has picked up on the past few years -- the cows, both because of their build and because they get plenty of exercise grazing -- stay in production about twice as long, or longer, than Holsteins.
The Jerseys do seem to like to walk, Tillotson said. In winter, they'll make several round-trips up the gravel road from the barn to the backwoods and back.
"I've always wanted to put a pedometer on one of them to see how many miles a day they walk," Tillotson.
The other advantage: organic inspectors know all the cows are his, raised on his land.
"Everybody always asks why I picked Jerseys instead of Holsteins and it's because we're organic," Tillotson said. "Nobody can say we're bringing my dad's cows over and milking them."
Tillotson's Grassland Farms Dairy is still a small operation. He only has a couple of employees.  The employees do most of the milking, including one old guy who just loves to come to work at 3 a.m. -- a real godsend for Tilltoson since he has a long enough day as it is.
"It's tough getting up in the morning and working until eight at night and then doing it all over again the next day," Tillotson said. "We've got a gentleman who is 66 years old. We put an ad in the paper and he said, 'that's right up my ally. I love getting up early. Even if I'm not working, I'm still up at two o'clock in the morning.''
"I said, 'perfect.' "
Tillotson has two sons, twin boys, Ethan and Cole, age 10. They help a little around the farm, but Tillotson wants them to be boys before they're men and he also wants to protect them from some of the more dangerous aspects of farmwork, so he doesn't demand many farm chores.
They do like helping with the newborns.
Brent enjoys their Little League games. He makes it a point not to let farmwork rob him of the joy of watching them grow up.
"I'm not missing a game because I've got hay to bail," Tillotson said. "The hay will be there tomorrow. I've missed things and then regretted it because they'll only be this age once."