January 19, 2015 - 10:27pm
South Byron names Fireman of the Year and appoints 2015 officers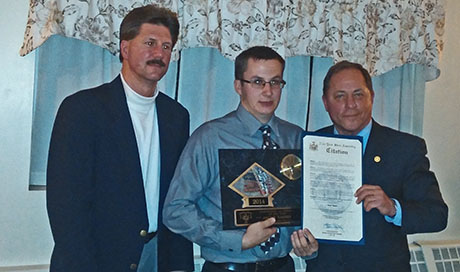 At the department's installation dinner this weekend, Jacob Yasses was named South Byron's Fireman and Member of the Year. Presenting the award are Christopher Hilbert and Assemblyman Steve Hawley, who also acted as emcee for the dinner.
Sworn in as firematic officers where:
Robert Wilson, chief
Jefferey Starowitz, deputy chief
Scott Blossom, assistant chief
Chase Cone, captain
Ben Baun, 1st lieutenant
Jacob Yasses, 2nd lieutenant
Christopher Hilbert, engineer
Lenny Peterson, fire police captain
Jim McKenzie, fire police sergeant
Reginald Macdonald, fire police corporal
Administrative officers:
Christopher Hilbert, president
Jacob Yasses, vice president
Sandee McKenzie, secretary
Alfred Klycek, treasurer
Photo and information submitted by Peter and Michelle Yasses.