March 22, 2014 - 1:59am
Spencer Hubbard wins Mr. Batavia competition at BHS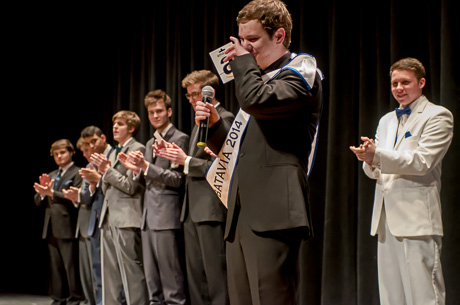 In middle school, Spencer Hubbard was bullied. Today, you can call him Mr. Batavia.
The Batavia High School senior won the title Friday night during its second annual Mr. Batavia competition.
When Hubbard's name was announced as the winner, a packed auditorium of high school students, parents and faculty let out a robust cheer and round of applause.
"It shows how far we've come as people that a gay student can become Mr. Batavia," Hubbard said during his acceptance speech.
Hubbard was tops in a field of 10 in a competition that included lip syncing, a talent contest, a Q&A and a tuxedo walk. Five judges from the community awarded points to the contestants and a committee tallied up the points to pick the winner.
More than $2,200 was raised for the winner's charity. In this case, Hubbard picked Habitat for Humanity.
"I feel like it's a basic need, that people need homes," Hubbard said. "A lot of people are homeless who don't deserve to be. They really need that help."
Hubbard is planning to attend the University of Tampa on a $25,000 scholarship. He will major in journalism.
BHS Principle Scott Williams praised Hubbard as a bright student and talented actor.
As part of the competition, Hubbard performed a self-written satire of a Target clerk that had more funny lines than a Saturday Night Live skit. 
Hubbard said he thinks his acting talent and his self confidence, especially during the swimsuit competition and lip syncing, is what helped sway the judges in his favor.
Last year, Lee Johnson won the contest, in its first year, and Johnson returned Friday night to entertain the crowd while the judges' ballots were tallied. It was a regular stand-up routine, but as he began to run out of material, Williams stepped in to help entertain the crown, including setting up an Ellen-like, Academy Awards selfie.
Competing this year were Adam Weaver, Charlie Williams, Blake Carter, Jake Paine, Tim Martin, Mathew Gabriele, Kenny McMaster, Casey Grice and Michael DiBaccco.
During his acceptance speech, Hubbard praised his fellow competitors and thanked them for being so supportive of each other throughout preparations for the show.
The fact that Johnson is so different from Hubbard, Hubbard said, shows the competition is valuable to the community.
"It shows different people can win," Hubbard said. "Last year Lee won, and he's really different from me. He runs in a different crowd. He was straight and I'm gay, and that was probably a really big thing, too. I said that in my speech as well. It shows how far we've come as people."
A lot has changed for Hubbard, he said, from middle school to his senior year.
"The award means a lot because in middle school I was bullied and now, look how far I can come," Hubbard said. "I think the big thing was I was just myself when I got to high school. I didn't really care what people thought. I didn't try hard to impress people."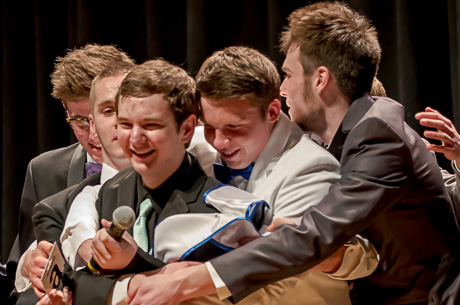 Hubbard being congradulated by his fellow contestants.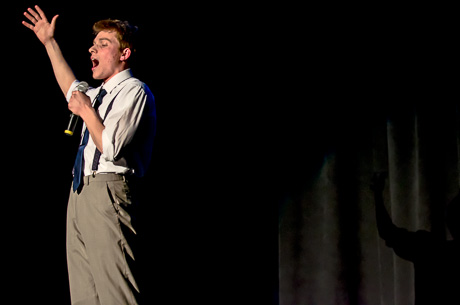 Mike DiBacco sings Frank Sinatra's, "I've Got the World on a String."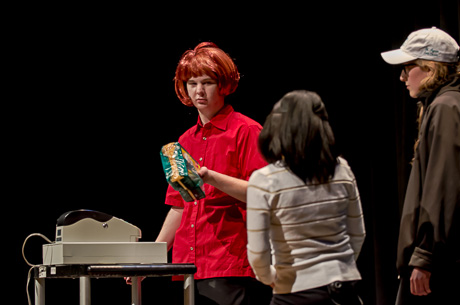 Hubbard performing his sketch, a satire of a clerk from Target.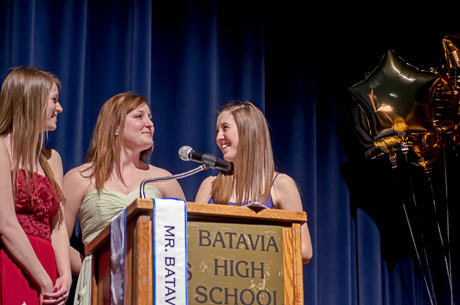 Sydney Loria, Ashlee Yasses and Haley Case were hostesses for the competition.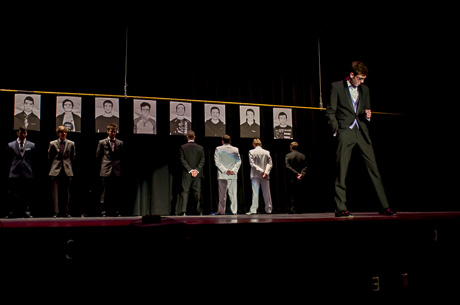 Matt Gabriele at the front of the stage during the tux walk.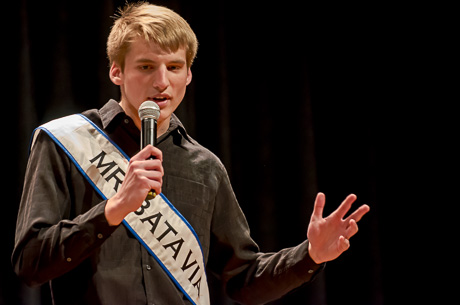 Lee Johnson, last year's winner.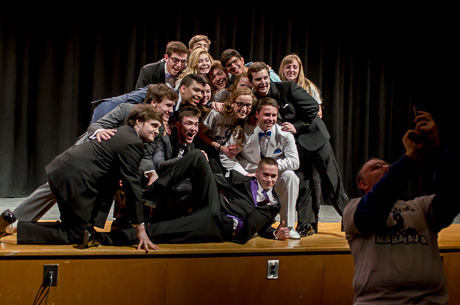 Principal Scott Williams during an Ellen/Oscar-inspired selfie with the cast and crew of the Mr. Batavia competition.
To purchase prints of these photos and the photos in the slide show, click here.
March 22, 2014 - 8:37am
#1
WOW ---- a gay kid wins the Mr. Batavia contest --- BHS HAS come a long way. Congratulations, Mr Hubbard !!!!!! I don't know anyone at that school, but I am impressed and proud of you all.
March 22, 2014 - 12:14pm
#2
Agreed Irene. As a mother to 4, I realized a long time ago that our children are much more tolerant and accepting of others than many adults. I remember several years ago when it was announced that a transgender teacher that had formally been a "Mr." to the students would be teaching as a "Miss" when school started in the fall. Many parents were in an outrage and a few were even shortsighted enough (many other adjectives also come to mind) to transfer their kids to private schools. For the most part, the kids just shrugged it off. She was a great teacher as a man and would continue to be a great teacher as a female. Isn't that what we want for our kids - great teachers?
Anyway, congratulations Spencer and BHS. He is a nice and very talented young man.
March 26, 2014 - 2:32pm
#3
how about a competition for BOTH boys and girls featuring practical career skills (like those taught at BOCES). Such as body work, welding, etc. the girls may very well win. more power to them :)