May 13, 2013 - 9:34pm
Sweet Ecstasy fits right in at Seymore Place in Downtown Batavia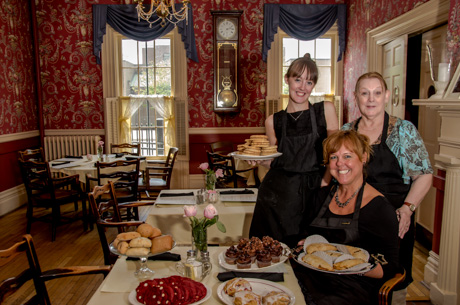 Tonisha Price has a growing little bakery business -- so much so that she needed to move Sweet Ecstasy out of her cramped shop in Stafford and find a space closer to her growing customer base in Batavia.
While going through the city's grant process, she had a meeting at Seymore Place, the former Batavia Club building at Main and Bank streets that is home to GO ART!
She'd already scouted several locations in Batavia, but immediately recognized Seymore Place as the perfect quaint locale for what she wanted to do -- expand her bakery business, but also provide a cozy setting for lunches and catered affairs.
"As we were going through the approval process, we ran across this place," Price said. "This wasn't our first choice, but once we saw it, we fell in love and here we are today."
Besides sweet treats, Sweet Ecstasy will offer grilled sandwiches, quiches and soup on a daily basis for lunch. Every Friday is "fresh bread Friday."
Price is also planning "supper clubs," where one night a month, there will be a special dinner served. The first one -- date to be announced -- will feature sushi.
The new location opened Friday and Price has already booked five special events that take advantage of the unique space at Seymore Place and she's looking to book more bridal showers, receptions, birthday parties, tea parties, office parties and other such events.
Sweet Ecstasy is also applying for a liquor license so they can serve wines and craft beers.
Photo: Price, Jean Robbins, and Tonisha's mother Carla Price, seated.