October 17, 2011 - 4:27pm
Teenage Bergen bow hunter takes down 17-point buck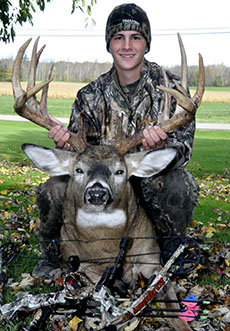 From Jake's father, Jeff Maurer:
My 17-year-old son, Jake Hunter Maurer, took this 17 pointer on opening day of this year's archery season, Saturday October 15, 2011.
He was hunting alone on the evening of the first day of this year's bow season and though the weather was not ideal, a little windy and cool, this buck meandered through and was the only deer that he saw that afternoon. It presented a 20-yard shot and Jake was able to make it a successful one.
He found his arrow and returned home for an hour then went back out with his friend and father to track it. It had only traveled about 80 yards where they found out just how big he really was. With 17 scoreable points, it may have to be recorded as a non-typical due to the abnormal points on the antlers. But it appears to be big enough for the NYS record book, whether it is recorded as a typical or non-typical.
Jake photographed this same buck with a trail camera a few weeks before season and figured out his travel habits between his bedding area and feeding areas. He found a tree to put a stand in and went there the first day even though other hunters may have stayed out of the woods due to the high winds and cold rain. We took it to a local taxidermist to be mounted and look forward to several meals from all the meat as it weighed about 200 pounds.
The Maurers live in Bergen and Jake was hunting in Bergen when he shot the buck.
October 17, 2011 - 5:41pm
#7
Two years ago, we published a photo of somebody's trophy, and there was a complaint. Last year, we published a photo of somebody's trophy, and somebody complained. This year, we publish a photo, and get complaints.
And next year, when we publish a similar photo, we'll probably get complaints. And the year after that and the year after that and the year after that.
This is a hunting county. We will provide coverage of hunting news as it's available. Most people like it.
Part of living in a diverse society is you sometimes get exposed to stuff you don't like. Not everybody is going to be happy with everything we publish, but once I start trying to please everybody, then everybody is going to complain about how boring The Batavian is. First, no dead deer pictures, then no arrest reports, and then no sports coverage because you covered that team and not this team, and then no political coverage because some people find politics upsetting, and then no city council coverage because they're just politicians, and then no court coverage because that's a private matter, and then no new business openings because that just gives people a sense of false hope, and then no barn photos because not everybody likes barns, etc. and etc. and etc.
There's always somebody who doesn't like something, but so long as most people seem to like the coverage we provide, we'll do our best to provide coverage of a diverse and broad range of topics in Genesee County, including hunting, which will invariably include trophy shots.