Image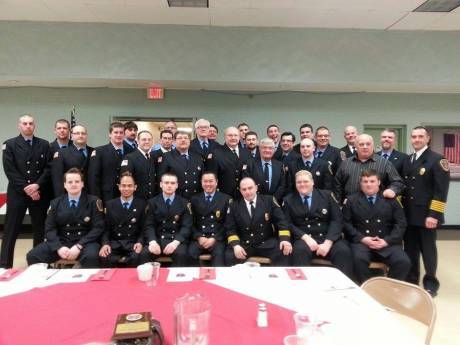 Information and photos submitted by Nate Fix.
The Town of Batavia Fire Department had their Annual Installation of Officers Saturday night.
The 2015 lineup of officers are Chief Paul Barrett, Deputy Chief Dan Coffey, 1st Asst. Chief Nathan Fix, 2nd Asst. Chief Bob Tripp, Captain Dave Tran, and Lt. Andrew Mullen.
The Board of Directors are Bob Mullen, Chad Higgins, Dan Jacques, James Bouton, and Frank Riccobono, and President John Fitzsimmons and Vice President Gary Diegelman, Treasurer Don Koziol.
There were multiple awards given out, including the 100 Call Club. These are members who responded to more than 100 calls for the calendar year of 2014.
They are:
Stephen Diegelman, 102 calls; Frank Riccobono, 107 calls; Paul Dibble, 119 calls; Dave Tran, 118 calls; John Mullen, 119 calls; Bob Mullen, 124 calls; Cody Towner, 128 calls; Tom Garlock, 135 calls; Jason Holman, 138 calls; Gary Diegelman, 152 calls; Scott Maloy, 172 calls; Bob Tripp, 178 calls; Paul Barrett with 182 calls; Nathan Fix, 184 calls; Andrew Mullen, 191 calls; and the top responder was Stephen Kowalcyk, 222 calls.
Years of Service Awards went to:
Adam Mullen, 5 years; Dave Tran, 5 years; Ben Fisher, 5 years; James Bouton, 10 years with the Town of Batavia fire Department and 33 prior years with Alexander fire. Bouton has 43 years of volunteer fire service. Nathan Fix, 10 years and he also has six years prior with Corfu fire for a total of 16 years of volunteer fire service. Dave Morrill, 15 years of service; Steve Kegler, 20 years; John Fitzsimmons, 20 years; Paul Barrett and Dan Jacques with 30 years of service. Both were recognized with plaques and letters from Assembly Steve Hawley and Senator Mike Ranzenhofer. Bob Mullen was recognized for 50 years as a Volunteer Fire Service member and he received special recognition.
Image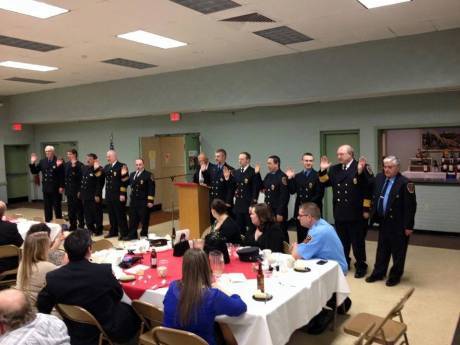 Image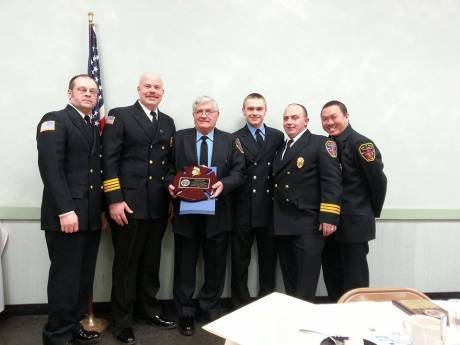 Image