Image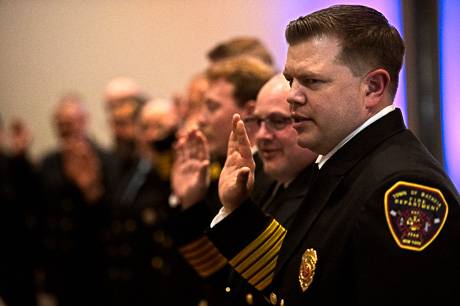 The Town of Batavia Fire's banquet Saturday at Terry Hills was more than awards and installation of officers; it was also a celebration of the department's 75th anniversary.
Chief Christopher Strathearn, being sworn in above, began his second term as chief and, in his annual report, said that the department responded to 409 calls in 2022 with 3,309 member responses to those calls for a total of 2,402 manhours by volunteers out on calls.
The department currently has 48 active members.
The 2023 officers are:
Chris Strathearn, chief
Robert Hunt, deputy chief
Paul Dibble, first assistant
Joshua Boyle, second assistant
Bryan Mosciki, captain
Lieutenant, Clayton Gorski
Paul Barrett, safety officer
Scott Garlock, president
Tom Cunningham, vice president, Steve Coburn, secretary
Don Koziol, treasurer
Directors: Tim Yaeger, Dan Jacques, Paul Bareet, Gary Diegelman, and William Allen.
Image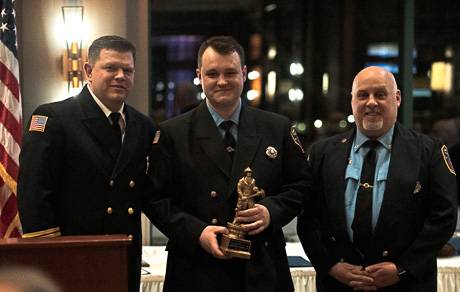 Dwayne Fonda Jr., flanked by Strathearn and Garlock, was named Firefighter of the Year.
Image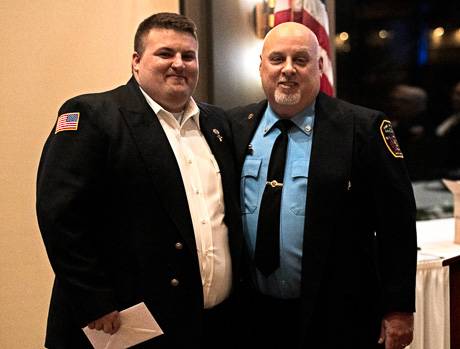 Tom Garlock, who joined the department 10 years ago, received the president's award.  His father, Scott Garlock, presented the award and talked about the night he and his wife first met; the first hour they met.  They were in the GCC parking lot, and a fire truck went by on its way to a garage fire. Garlock told Lynn, "Let's go," and they followed the truck to the fire. Garlock wasn't even a volunteer yet.
"I think she knew what she was in for," he said.
Both of their sons joined the department, and it seemed like destiny.
"My President's Award this year goes to that little boy who, in first grade, his teacher came up to me and said, Mr. Garlock, your son seems to know an awful lot about fire, the fire department, and fire trucks," Garlock said. "I said, 'how so.' She said, 'Whenever I read stories, and there's a fire truck in the story, your son always corrects me and says, 'no that's an engine,' or 'that's a ladder truck.'"
Image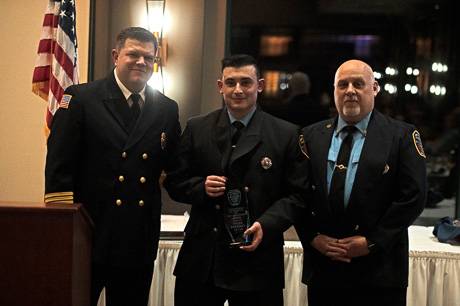 Tyler Stewart went out on 205 calls, making him the department's top responder for 2022.
Image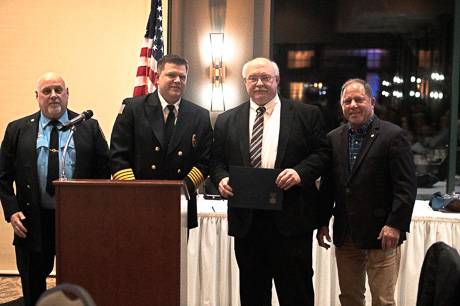 Past chief Frank Riccobono was recognized for his 40 years of service to the department.
Image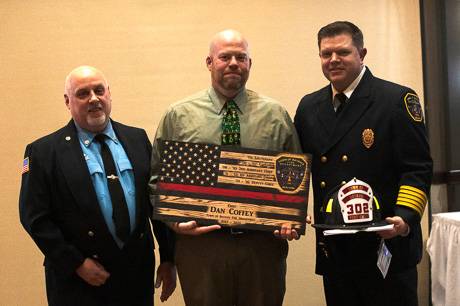 Dan Coffey became a line officer in 2005.  He served as chief from 2017 to 2021. He wasn't able to attend last year's dinner so his service was recognized on Saturday night.
Image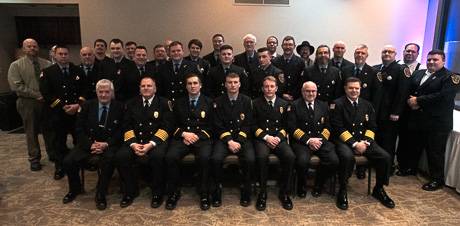 Town of Batavia Fire volunteers.
Photos by Howard Owens.