January 3, 2014 - 1:47pm
Truck hauling helicopter on Thruway crashes in Pembroke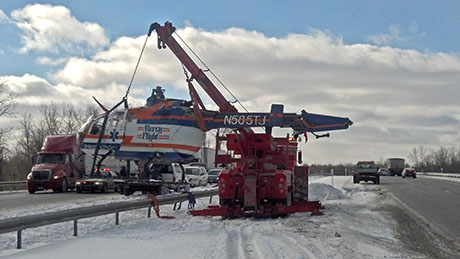 The driver of a truck hauling an out-of-service Mercy Flight helicopter apparently hit a slick spot on the road and lost control of the truck, causing the trailer to roll over.
The helicopter was heavily damaged when it rolled off the trailer.
"It's just property damage," said Mercy Flight's CFO Margaret Ferentino. "That's the good news. Thank goodness, no one was hurt."
The helicopter was taken out of service in 2011 and had been sold to a company in Australia. It was being hauled to Canandaigua for repainting.
Most of the components had been removed to prepare it for repainting, Ferentino said.
Based on pictures from the scene, Ferentino said it appears the helicopter was totaled in the accident, but it will be assessed when it's returned to Mercy Flight's base in Buffalo.
The accident was reported at 10:38 a.m. in the area of mile marker 402, which is just west of the Pembroke toll plaza.
Photo: Courtesy NYSP Public Information Officer, Troop A, Trooper Victor Morales.