March 27, 2014 - 7:53pm
Vendors will star in reinvigorated Genesee County Home Show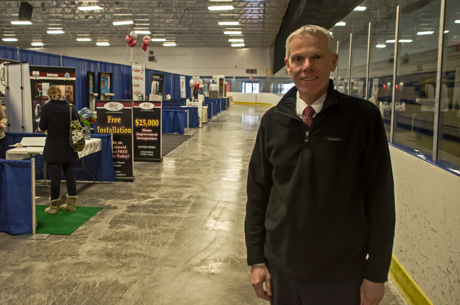 The revamped and reinvigorated Genesee County Home Show is just about ready for your visit this weekend.
More than 60 vendors will have their wares on display and Chamber of Commerce President Tom Turnbull said those local and regional business owners will be the stars of the show.
"We decided the businesses should be the celebrities," Turnbull said. "We want people to come in and see what they have and that will be their entertainment for the day. We'll have some other vendors, such as Darien Lake, Terry Hills, Batavia Downs and Adventure Calls, but for the most part, it's all about homes, fixing your home, or building a new home or adding on to your home."
The home show, which fell on some rough times in recent years, has moved back to the Falleti Ice Area (sans ice, of course) and the Chamber invested in new booth partitions and upgraded electric.
At least 1,500 and maybe as many as 2,500 people are expected to visit the home show this weekend.
After a long, cold winter, on a weekend when temps will be in the 40s and 50s, Turnbull thinks the home show comes at just the right time for people to get out and start looking forward to spring and summer and those special projects around their homes.
"It's going to be good weather for a home show," Turnbull said.
The home show came about, Turnbull said, because local business owners, most notably Eric Biscaro of Armour Building Supply, came forward and asked the Chamber to take on the event.
"They came to the chamber and said we need a home show in this town and you guys should be running it," Turnbull said. "It made perfect sense for the chamber to run it because that's what we do is promote business."
With all vendor spaces sold out for the weekend, the home show does seem like the place to be for homeowners and would-be homeowners this weekend.
Doors open at 5 p.m., Friday. It runs from 11 a.m. to 6 p.m. Saturday and 10 a.m. to 3 p.m. Sunday. The cost is $3 per adult. Children under 12 are admitted free. 
Alex's Place will have a food booth set up in the refreshment stand/skate rental room.