December 25, 2011 - 10:27am
Walmart greeter, age 70, seriously injured after allegedly being punched by 26-year-old woman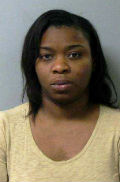 CORRECTION: The employee allegedly assaulted was a cashier, not a greeter.
A 70-year-old greeter at Walmart suffered fractures on the left side of her face Christmas Eve after a 26-year-old woman allegedly punched her after being asked for her receipt for items in her shopping bag.
The young woman reportedly ran from the store and, according to witnesses and several customers, chased her and surrounded her car, preventing her from leaving until police arrived.
"One of the biggest things to note is that the community actually stood up and did not let this person get away with what she did," said one witness, who asked to remain anonymous. "Even on this busy shopping day, dozens of people stayed behind and made police reports."
Charged with two counts of assault in the second degree -- one for alleged attempt to cause serious injury and another for allegedly injuring a person 65 or older -- is Jacquetta Simmons of 106 Ellsworth Ave., Batavia.
Simmons was arraigned in Town of Batavia Court by Justice Michael Cleveland and committed to Genesee County Jail on $20,000 bail or $40,000 bond. She's scheduled to reappear in court Jan. 23.
The injured woman was taken to UMMC with a swollen face and multiple facial fractures.
Witnesses say the woman is a longtime employee of Walmart and loved by many.
The employee was reportedly working near the front doors of Walmart when Simmons tried to exit carrying a bag of merchandise. The victim asked Simmons for her receipt. It's unknown if there was any other conversation, but it was at this point that Simmons allegedly punched the victim, who was knocked to the floor.
Simmons then reportedly ran from the store, chased by other customers. 
Batavia police arrived on scene first, but Walmart is outside of the city, so State Police took over the investigation once on scene.
In comments on The Batavian's post yesterday, Michelle Wheatley, a witness, said, that as she was leaving she saw the suspect "standing by the police car in handcuffs with a big smile on her face."
UPDATE: Simmons posted $40,000 bond and was released from jail pending her next court appearance.
December 25, 2011 - 2:29pm
#11
Even though none of the accounts state that she actually was stealing anything, one would have to assume that you don't punch a greeter and flee the scene just because you are offended by being asked for your receipt. How is it the someone feels compelled to steal items from a discount store when in a matter of hours she or someone who must care about her can put up that kind of bail on her behalf? If she was in need of money, there was apparently a source available to her that didn't require theft and punching a 70 year old woman trying to do her job.
Pages