December 27, 2011 - 4:53pm
Witnesses describe combative situation after Walmart employee asked to see receipt
The 26-year-old Batavia resident accused of hitting a Walmart employee on Christmas Eve, yelled several obscenities at the 70-year-old woman before punching her in the face, according to several witnesses who made statements to the police.
The statements are contained in the court file of Jacquetta B. Simmons, of 106 Ellsworth Ave., Batavia, charged with two counts of assault in the second degree.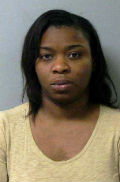 Th statements are from a dozen witnesses who describe the alleged incident either in detail or made the same general observations.
The altercation began, according to reports, when the employee asked a companion of the suspect for a receipt for merchandise in a shopping bag he was holding. Both of the customers refused to produce a receipt, according to the reports, at which point the employee reportedly grabbed the bag from the man.
The employee and a manager said they were enforcing Walmart policy, but numerous online articles say blanket policies have proven legally treacherous for retail stores.
More than a dozen statements about the alleged incident are contained in the court file of Simmons.
The employee, Grace Suozzi, was taken to UMMC where she was treated for injuries to her eye, jaw and cheek, including bone fractures. Souzzi's glasses were also broken when she was hit.
Suozzi gave a statement to a trooper while at the hospital.
"I was working at Walmart on register 2 when I asked a man for a receipt," Souzzi says in her statement. "The man said that the bag was the female's who I was checking out. The man and the woman both refused to show me the receipt, which is the company's policy. I paged my manager about three times. I walked around and took the bag from the man. The female grabbed the bag from me, yelling at me saying the F word every other word. I grabbed the bag back and the bag tore."
According to Suozzi's statement, customer service managers arrived at the register and the argument continued and, as Souzzi put it, "the female decked me."
While Suozzi states she was upholding store policy, several online articles indicate if Walmart's policy is to detain and require a customer produce a receipt for a purchase without suspicion of theft, it may be violating the customer's rights.
The Washington Post wrote about such policies in 2007 and The Legality, an online law journal, examines the issue in some detail.
According to online accounts, receipt checks must be voluntary and customers cannot be detained unless an employee has a specific belief that a theft may have taken place.
A spokeswoman for Walmart said the company may release a statement later on its actual receipt check policy, but meanwhile she referred The Batavian to a loss prevention expert with the National Retail Federation, based in Washington, D.C.
"Of course," a customer may refuse to produce a receipt, said Joe Larocca, but a store may also refuse service to customers, and a customer who isn't cooperative may find himself barred from the store in the future.
Every retail chain has its own policies, Larocca explained, but they're all active in aggressive loss-prevention measures.
A retail store employee can detain anybody the employee reasonably suspects of theft, Larocca said, and stores are legally protected when an actual theft is suspected.
Nationally, retail stores lose $35.3 billion to theft each year.
"The number of consumers who complain are just a handful of people," Larocca said. "By and large, customers regard the request for a receipt as reasonable. They recognize that stores must protect their merchandise. Everybody recognizes that losses in the store mean higher prices at the registers."
But online stories indicate there are times when customers challenge an employee requesting a receipt for an item purchased, such as an account in The Consumerist of a man who remained calm when confronted by Walmart employees in Virginia and eventually walked out of the store with his purchase despite never showing his receipt.
Witness accounts from Christmas Eve, however, indicate Simmons was anything but calm during the confrontation.
"Cashier Grace was working at register 2," wrote a store manager. "She asked to see a customer's receipt for a bag of merchandise they had. The woman refused to show a receipt. Then the woman began swearing loudly at Grace. The woman grabbed the bag out of Grace's hands and then punched Grace in the face causing Grace to fall to the floor."
A customer wrote, "... they were surrounded by the CSM's (customer service managers) ... they were trying to talk to her but the customer was furious and swearing and she tried to take the bag from Grace's hands so all the stuff dropped on the floor. Finally she punched her in the face and threw Grace 10 feet away."
Nearly every account describes Simmons yelling obscenities at Souzzi before allegedly hitting her.
Witnesses say Simmons was with an unidentified man who in one account tried to keep Simmons calm and in another was yelling into a mobile phone.
The accounts of store managers also indicate they believe it is Walmart's policy for customers to produce a receipt upon demand.
One manager wrote, "I was called over to register two today and asked by the customers why cashier Grace wouldn't let them leave without seeing a receipt. I told them I know that Grace had done the right thing and that we couldn't let them leave without a receipt. They started to get rude and loud and I called (another employee) over to help with the situation."
It's unclear from the statements if Suozzi was engaged in a systematic process of checking receipts, or engaged in other activities and singled out Simmons and her companion for some reason. It's also unclear why Simmons and her companion had a bag full of previously purchased merchandise while at the cash register.
The court file contains no statements by Simmons nor her companion.
State Police have said that Simmons did have a receipt for the items in the bag and is not accused of stealing anything from Walmart.
The Batavia resident is out of jail on $40,000 bond and is scheduled to appear in court again Jan. 23.
Simmons is charged with two counts of assault, 2nd, one for allegedly causing serious injury and the other for allegedly injuring a person 65 or older.
As a first-time offender, Simmons is facing a possible sentence, if convicted, of two to seven years in prison.
The statute making assault on a person 65 or older a Class D felony was passed in 2008.
NOTE: On Sunday, we published a story with a witness statement saying Simmons was smiling after she was cuffed. We've heard from several other people who contradict that statement, describing Simmons conduct in widely differing accounts, from hysterical, to angrily yelling, to calm and emotionless, but nobody else reports seeing her smiling.
December 27, 2011 - 6:30pm
#3
Thank you Howard for posting an update on this story, now everyone that was bad mouthing one another can get more of an idea of what happened now that the employee's statement was told and not from all this hearsay. One last comment in the story, where it says "It's also unclear why Simmons and her companion had a bag full of previously purchased merchandise while at cash regisgter". Has anyone on here checked out at the Photo Center, Electronics Center, In Store Pick Up or even the Pharmacy and then had more shopping to do and did the final checkout up front? I have plenty of times and never got asked to see a receipt for what was in the bag in my hands or in cart. Just saying.
Pages