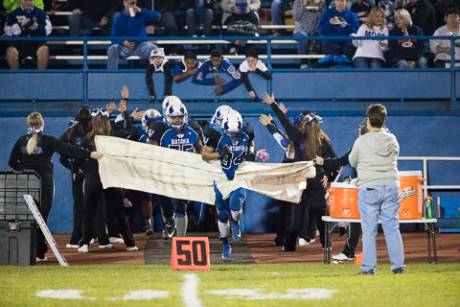 Ray leach runs the opening punt return for a touchdown. On Batavia's next possession Leach runs 71 yards for a touch down by diving into the end zone.
Batavia's next punt return was run back 61 yards for a touch down by Chandler Baker.
In the first three minutes Batavia lead the Wayne Eagles 21 to zip.
 It was more than impressive. For many in attendance it seemed that the game was over and it was time to go home.
Perhaps this is what the Batavia Blue Devils' offense thought, too. They would not score again until the last two minutes of the third quarter when Wayne had come all the way back to lead the Blue Devils 22 to 21.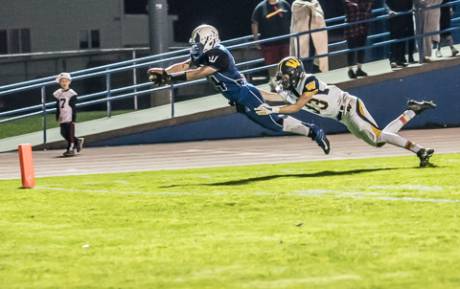 During the nearly three quarters when Batavia's offense had almost no effect on the game, Batavia's defense had a few impressive stops and forced three turnovers. John Kindig and Josh Barber each had eight tackles for a loss of two yards.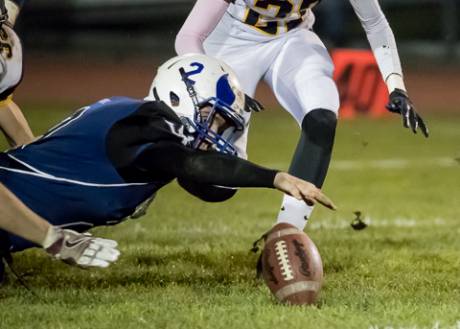 Wayne slowly battled back gaining momentum with each successful play.
With 1:51 left in the third quarter Batavia's offense returned by scoring a touchdown. With 4:42 left in the fourth, Wayne answered back with a touchdown of their own, but failed to convert on a two-point extra point attempt.
At 1:44 Batavia scored again, making the final score 36 to 28. Chandler Baker passed 14 times for seven completions and 65 yards. Ray Leach had 12 caries for 158 yards.