Image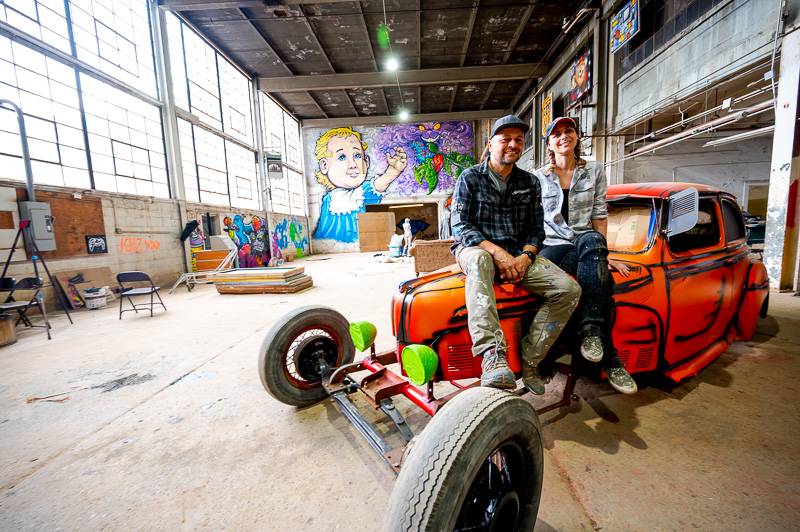 Nothing like the smell of burnt shopping cart to go with your morning coffee.
That was just one of several teasers thrown online to pique viewers' interest during these past four months of preparation for a surprise exhibit on the city's east side.
Considering the involvement of artists, sponsoring businesses, with the lead being GO ART!, and Harvester Center LLC serving as host, this project has been kept under wraps fairly well. 
That is until now, when founders Brian Kemp and Mary Jo Whitman decided it's time to announce:  Enter Through The Coffee Shop @ The Harve.
"So Brian came to me with this idea, he was like, 'We should take over an industrial space and see what we can do.' And you know, Brian always has a lot of ideas. And the next day, he said, can you meet me at the Harvester in 30 minutes? He showed me the room, and he's like, 'You want to do it?' I'm like, 'All right. 'And that's how it started," Whitman said.
While that may sound like a rather calm beginning, it has been anything but ever since they temporarily claimed the 7,000-square-foot space at 56 Harvester Center in January.
Rectangular in shape, with long rows of windows for ample natural sunlight, it's a space easily accessible through The Pub Coffee Hub, owned by Rob Credi.
Image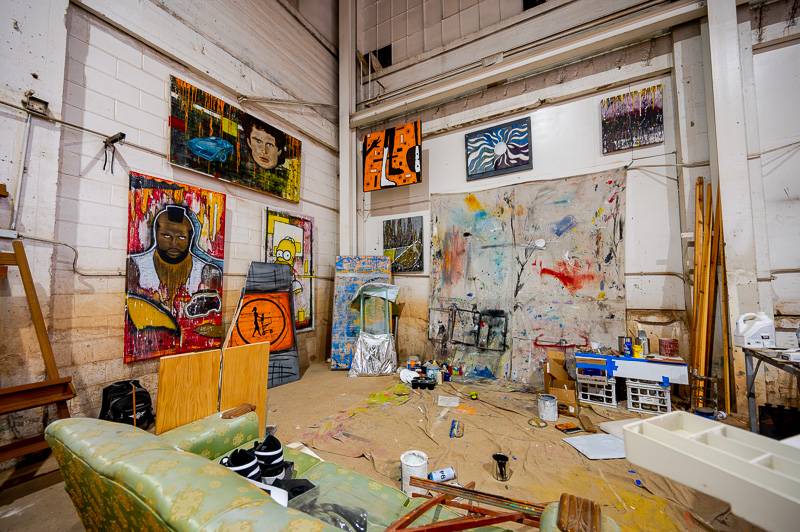 Kemp and Whitman put the word out for artists, and the walls have been gradually bleeding color with brilliant murals and 3D sculptures, while the room's footprint has been carpeted with the shell of a red car, artwork and the makings of a bar area. 
Is it an art exhibit? A gallery? A space for mingling and reflection while enjoying refreshments and listening to live music? Or perhaps a new avenue for artists to publicly expose their creations? Yes, yes, yes and most certainly, yes.
One other possibility, of course, is that it also brings people over to Harvester Center, which seems to be getting more buzz as a growing business center again. 
The Harve's debut will be with an opening reception from 5 to 11 p.m. June 3, and a VIP invitation-only event the evening before.
Image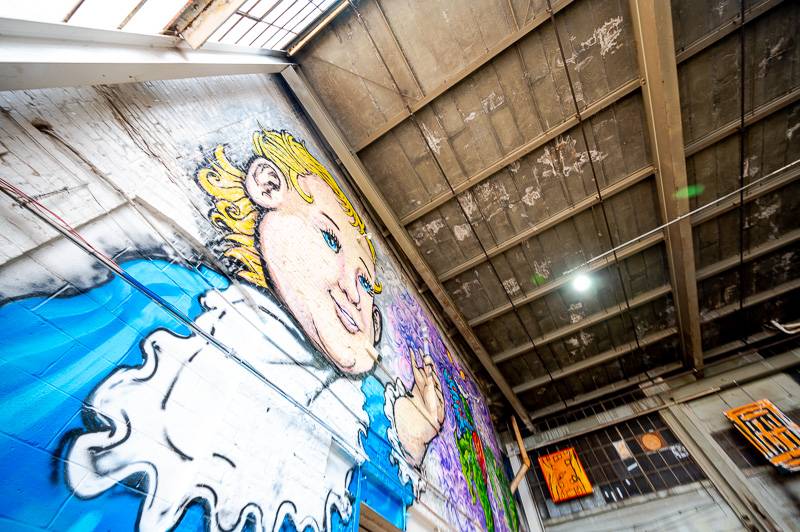 Step into the capacious room, and it's hard not to notice the sweeping mural of a blonde-haired, vivid blue-eyed doll on one end wall that sits next to a take on the Cheshire cat in a vibrant purple atop red mushrooms in a dazzling, eye-catching still vignette. And all of it was painted by Dan Butler in an astounding four days.
Across the room in a corner is Kemp's studio, filled with various materials and about 20 works already done.
"It's been cool having this much space," he said. "I have 10 more things I'm working on."
On one wall is Whitman's sculpture-in-progress. It seems fitting, given a prior disclosure, that she often leans toward darker works of art. 
A big black puff of clouds stretched along toward the top of the wall, with two people dressed in black below, and one of them with a shopping cart — painted black — against the wall. It actually rains, and the clouds have lightning, she said.
From those early moments of walking into such an expansive space, she and Kemp didn't really fumble with ideas of what to do or how to go about bringing their collective visions to life, they said. 
Image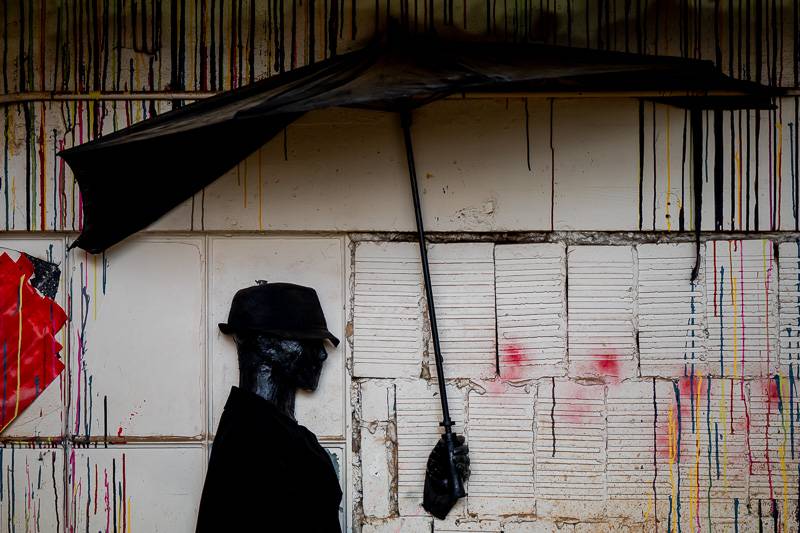 "It's absolutely amazing how everything has just fallen into place. Rob's extending his hours when we're open Fridays and Saturdays in June," Whitman said. "We just started asking questions. There was a BBC documentary, 'Exit Through the Gift Shop,' so it's a parody of that, 'Enter Through The Coffee Shop.'
"It was just perfect clarity based on 'Exit Through The Gift Shop,' but kind of an opposite message that you know, instead of commodifying the arts let's bring the arts to people to help support local business," she said.
There will be two cars in the show, and they will hopefully be in the demolition derby in July, Kemp said. Having wheels helps with their other vision for the main floor, which brings together street art, graffiti and murals.
Image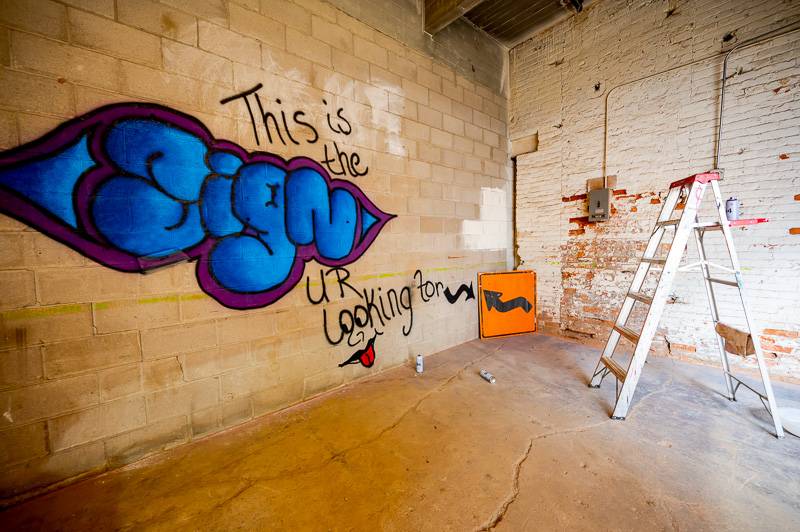 "We're literally going to have the place kind of like a street, we're gonna have little elements of this street scene. Like we're trying to make it look like a street … traffic cones, construction cones, the cars," he said. "You can just come in and walk around. You can grab a seat. Rob … will be open, so you can grab a coffee or a sandwich. We're hoping to have some alcohol available."
There are a couple of comfy couches there right now for seating, and tables and chairs will be moved from The Pub Coffee Hub for exhibit patrons, he said. They have booked four acts for live music already, with the potential for more.
They've worked with about 10 artists, Credi and Jarrod Clark, who manages Harvester Center LLC. Go HERE to stay up-to-date on details.
Image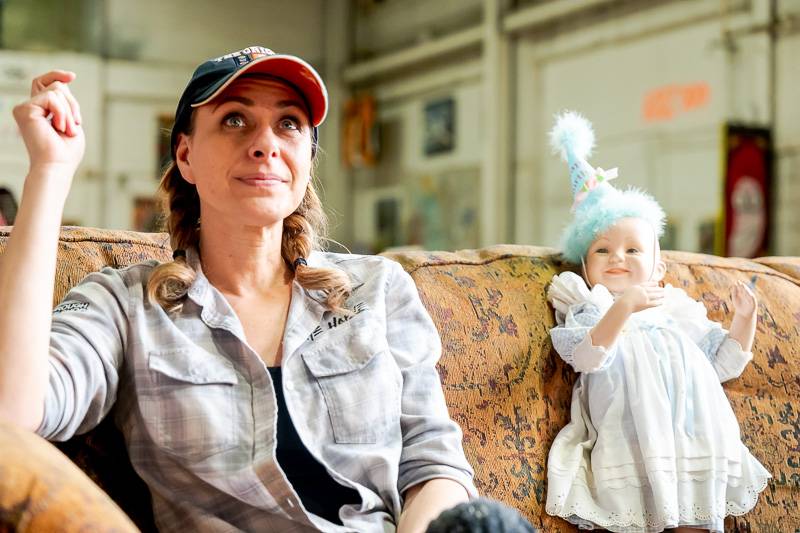 Photos of Brian Kemp, an artist and owner of T-Shirts Etc. in Batavia, and Mary Jo Whitman, an artist who works at GO ART! in Batavia, at The Harve at 56 Harvester Ave., Batavia, by Howard Owens.