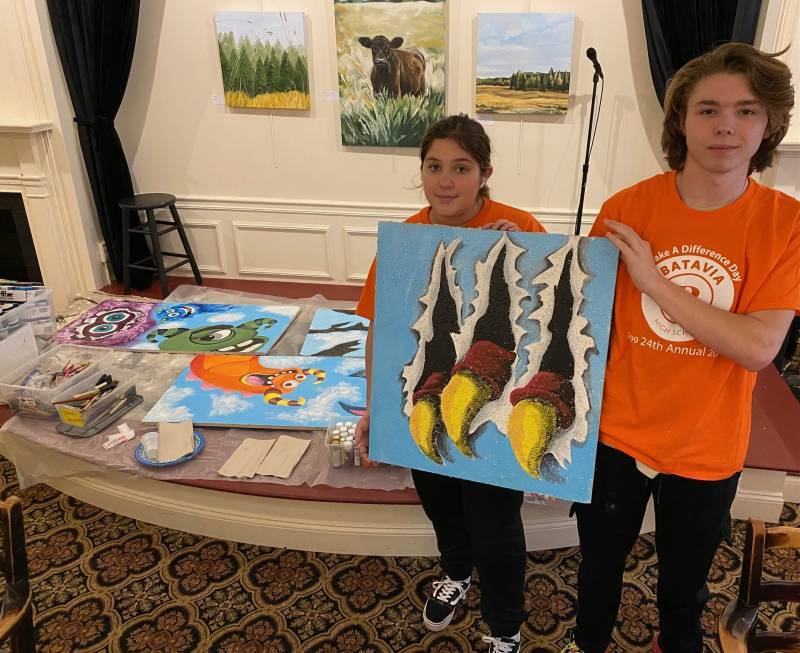 In a bid for a piece of a New York State $5.1 million pie, Genesee County will feast on a bit of that dessert in GO-ART!'s culinary kitchen with an award of $32,775.
The state Homes and Community Renewal announced the grant awards as part of Round XIII of the Regional Economic Development Council Initiative that was opened to municipalities and nonprofit organizations.
The $5.1 million was awarded to 23 projects to "enhance and revitalize Main Streets and strengthen local economies," HCR said in a press release issued Friday.
Genesee-Orleans Regional Arts Council, the only Genesee County-based agency to receive funding in this round, was given the $32,775 for a project to continue improving its culinary arts kitchen at 201 East Main St., Batavia.
Not that the kitchen hasn't been spruced up over the years, because bit by bit, artwork by artwork, local students have helped to add a new visual dimension to the place. With a monster theme firmly in tact, there are hand-painted scenarios on the walls, cupboards and — thanks to volunteers from Make A Difference Day — ceiling tiles. 
This new infusion of money adds to the aesthetics with infrastructure. 
Work is to include updates of a roof replacement, a kitchen exhaust hood fan replacement, and installation of an ice machine, convection oven, flat top grill, mixers and point-of-sale system, according to the grant application details. 
GO Art! Executive Director Gregory Hallock was not available for comment Friday.
"The New York Main Street program ensures that resources will be available for municipalities and nonprofit organizations working to revitalize downtown neighborhoods across the State," HCR Commissioner RuthAnne Visnauskas said in the release. "This $5 million in funding will strengthen on-the-ground initiatives, further economic development, generate more employment opportunities, and create new housing options. Thanks to our local partners for spearheading the types of projects that will elevate the quality of life for residents, businesses, and visitors for years to come."  
A total of 23 grants were awarded through New York State Homes and Community Renewal's New York Main Street program, which provides financial resources and technical assistance directly to nonprofit organizations and municipalities to strengthen the economic vitality of the state's traditional Main Streets and neighborhoods through targeted commercial and residential redevelopment. 
Additional information about the New York Main Street program is available HERE.