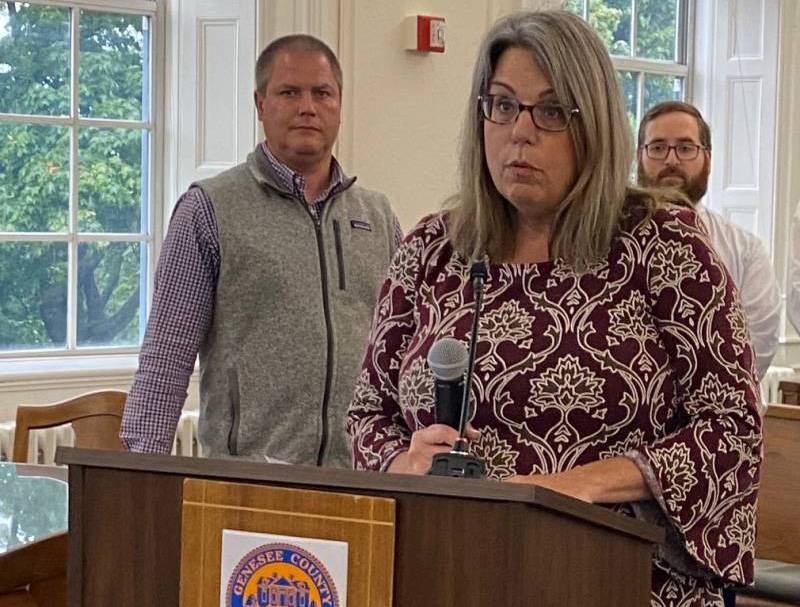 Although the topic of suicide is not pretty or often readily embraced, it is being eagerly addressed as an issue that cannot be ignored at Batavia City Schools and beyond, and, as Coordinator of Community Schools Julia Rogers said during a Suicide Prevention event this week, "we want mental health awareness and suicide prevention to be more than just events in our local community."
"We want it to be a way of life," she said during the Genesee County Legislature's proclamation presentation Tuesday for Suicide Prevention Week. 
"As we face the issue of suicide prevention, we are acutely aware of the discrimination, prejudices and stigma those suffering with mental illness have to deal with on a daily basis," Rogers said. "Our entire staff's focus has expanded to include looking out for all students. That means our disengaged and disinterested students, our middle-of-the-road students, and our very engaged and overly involved students, and those students who may also be living with a family member or friend who is suffering."
This all-encompassing approach has led the role of educators to expand in an effort to help support and teach students, families, colleagues and community members about mental illness, she said, "with the hope to overcome its stigma." 
It is a huge challenge, and one that cannot be accomplished overnight, Rogers said. But the school community now has a raised awareness level.
"We know suicide impacts people of all backgrounds, and we are constantly looking for warning signs," she said. 
The high school has a Sources of Strength group that helps support students in grades kindergarten through 12 in various activities and serves as a main prevention program. Its mission is to "increase help-seeking behaviors and promote connections between peers and adults." 
Community Schools collaborated with the county's Suicide Prevention Coalition last year and was awarded a grant through the American Academy of Pediatrics. A first-ever Youth Suicide Prevention Community Grants Program gave the district an opportunity to do many things throughout the district, including to create posters with safe messaging that were hung in various locations throughout Batavia during this month and in May during Mental Health Awareness month, she said.
"This grant opportunity led us as a coalition to think outside the box and develop Creative Communities. Starting with a Health Fest last spring, in conjunction with Community Schools, many other organizations and agencies, such as the Department of Health, Madeline Bartz Missions, Rochester Regional and the Lions Club, to name a few, our coalition plans to hold quarterly activities to expand our reach and our message," she said.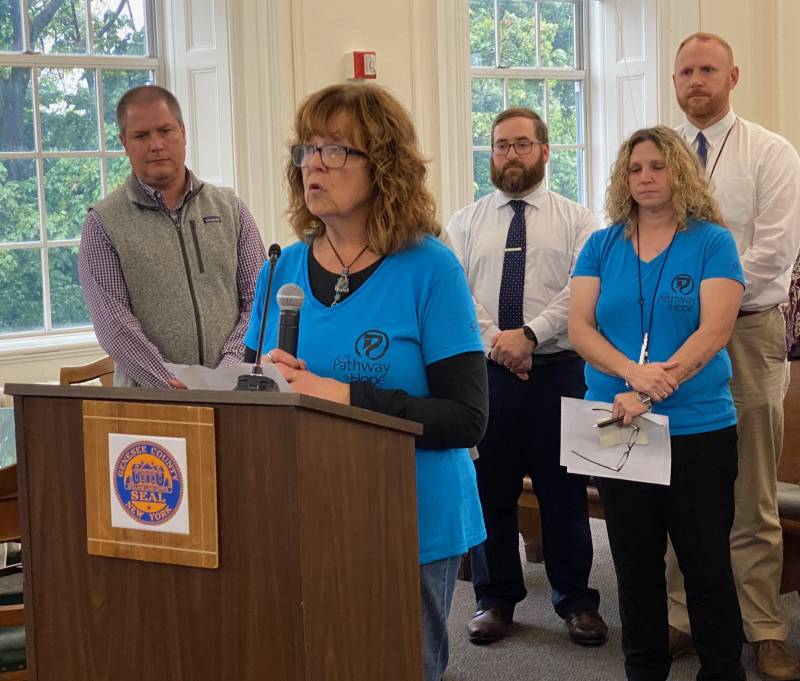 Cheryl Netter, a member of the coalition who has spoken publicly about her personal story of addiction, depression and being a suicide attempt survivor, wanted to share some words for others who may be struggling.
The coalition has been a passion of hers, Netter said, while it has also given a platform for her to impact others by sharing her story and allowing — with compassion — others to do the same.
"There is definitely power and strength found when you can identify in a safe, nonjudgemental and empathetic way with someone whose life has been impacted by suicide, mental health challenges or addiction," she said. "The Suicide Prevention Coalition has been a priority for me as well as those who are part of, and can help support, and who helped support, the coalition in offering education, resources, support and most of all, hope for those within our communities."
Legislator Gregg Torrey read and presented the proclamation to the coalition, which is below:
Whereas, the week of September 10 to 16, 2023 is National Suicide Prevention Week, an annual campaign observed in the United States to educate and inform the general public about suicide prevention and to warn about rising suicide rates, and

Whereas, this week aids to reduce the stigma around it and raise awareness so that more and more people can reach out for help, and

Whereas, these observances are united in raising awareness that prevention is possible and treatment is effective, and people do recover, and

Whereas, the benefits of preventing and overcoming mental health challenges, suicide attempts and loss are significant and valuable to individuals, families, and our community, and

Whereas, it is essential that we educate residents about suicide, mental health and substance abuse and the ways they affect all people in the community, and

Whereas, we encourage relatives, friends, co-workers, and providers to recognize the signs of a problem, and guide those in need to appropriate services and supports, and

Whereas, the Suicide Prevention Coalition of Genesee County is dedicated to providing suicide awareness, training, prevention and postvention strategies for individuals, families, schools and organizations in Genesee County. Now, therefore, be it

Resolved, that Genesee County Legislature proclaims the week of September 10 to 16, 2023 as Suicide Prevention Week and shows great compassion for coming together as a community to educate and support each other.